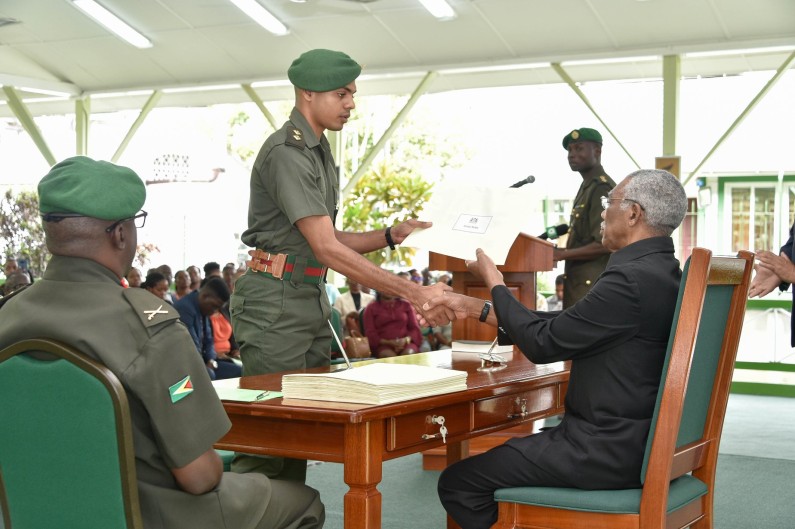 New Officers of the Guyana Defence Force were today officially welcomed into the officer corps as they received their instruments of Commission from President David Granger.
The Standard Officers' Course now includes studies at the University of Guyana. All of the officers who successfully completed the studies are now holders of an Associate Degree in General Studies.
President Granger told the new officers today that the GDF will continue to improve the quality of training.
He explained that the Standard Officers' Course (SOC) aims at inculcating the Force's values and standards in cadets and to develop their power of command and leadership and their service to the country.
"The SOC has been improved continuously and now includes an enhanced academic programme and intensified jungle, paratrooper and equitation training", the President said.
The Reserve Officers' Course has also been reintroduced after a hiatus of a decade.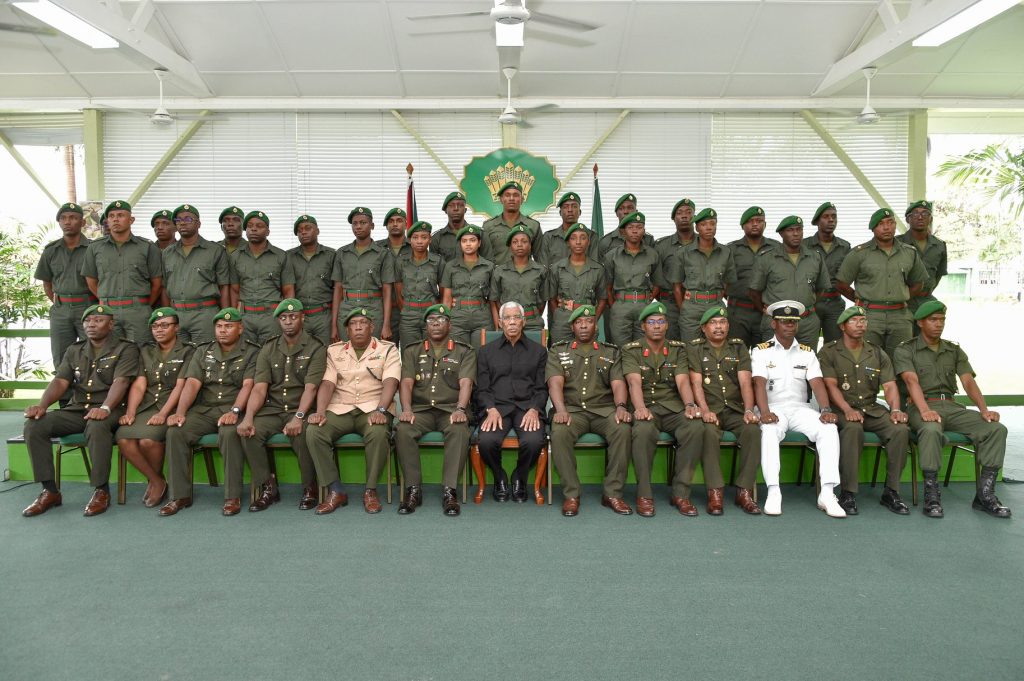 President Granger said members of the Guyana People's Militia are active and receiving training in all ten administrative regions so that they could respond effectively to the need for assistance, including in the disaster relief.
"The technical corps are being improved. The acquisition of light reconnaissance aircraft and inshore patrol vessels have augmented the capabilities of the Air Corps and Coast Guard, respectively. The Intelligence Corps and Signal Corps are being reformed to improve intelligence, surveillance and communications. The Engineer Corps is being recapitalised and has received training while working along the Brazilian Army in the drilling of wells in the Rupununi".
While reminding the new officers that their job now is to serve, the President told them that the Defence Force now has greater national reach and responsiveness.
He told the officers that an officer's Commission demands trust, loyalty and good conduct and that it also requires each officer to exercise dutiful diligence and discipline and to demonstrate obedience to his or her superiors.