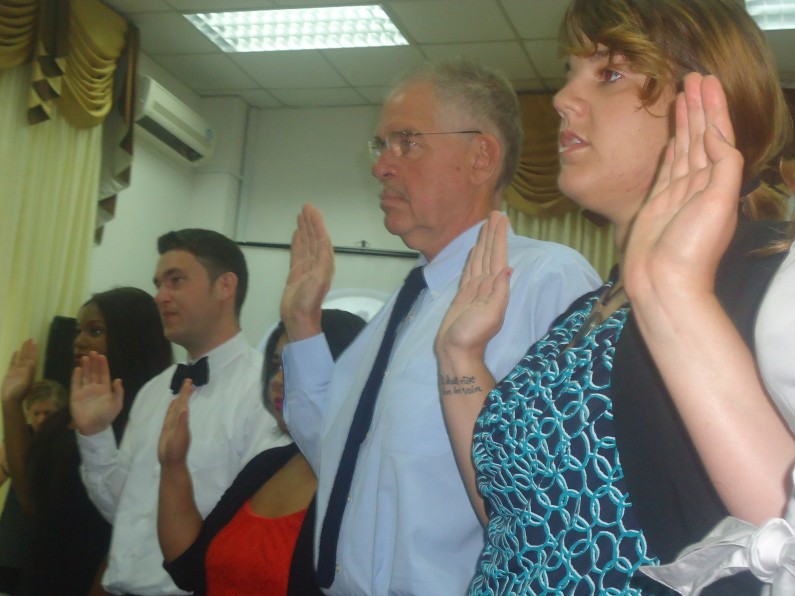 Twenty nine new U.S Peace Corps volunteers took the oath to serve today as they officially began their two-year stint in Guyana. The volunteers will serve in eight of Guyana's ten administrative regions and will work in the areas of health and education.
At the swearing-in ceremony at Guyana's International Convention Centre at Lilliendaal, the Deputy Chief of Missions at the U.S Embassy, Thomas Pierce told the new volunteers that like many who served before them, their work in Guyana will challenging as well as rewarding.
He told the Peace Corps volunteers that Guyana is a land with an abundance of beauty that would thrill nature lovers, but the high-ranking U.S official also warned that "despite its intense beauty and tremendous potential, Guyana is also a developing country, and, as such, faces considerable challenges, including poverty, HIV/AIDS epidemic, ethnic and racial divisions, crime and security threats, and education gaps".
Mr. Pierce said the United States has a strong interest in working in partnership with Guyana to support national efforts to meet the many challenges.
Guyana's Chief Education Officer, Olato Sam told the volunteers that they should enjoy Guyana's rich and diverse cultures and value the friendships they will force. He told them that their experience should be a very valuable one and Guyana was very fortunate to have vibrant individuals assisting with its development.
The new batch of Peach Corps volunteers represents the 25th batch to serve Guyana. Since the U.S government agency began its work across the globe in 1966, over 600 volunteers have served Guyana. The new group is being referred to as "Guy25".
Before taking the oath to serve, they spent two months in various communities across Guyana, learning and experiencing the Guyana way of life.
One of the volunteers remarked at the ceremony that he is still trying to get accustomed to taking a "bucket shower" and as a teacher he has found out that the title "Sir" is just not for those honoured by the British Queen.