President David Granger, today, handed over $1million to the Cyril Potter College of Education (CPCE) for emphasis to be placed on the Science, Technology, Engineering and Mathematics (STEM) subjects, even as the Principal of the College vowed to ensure that the approaches to these subjects are reviewed in the new year to ensure maximum results.
 The President presented the cheque to the Principal Viola Rowe, following his address to the graduating class of 2016 at college's 82nd graduation ceremony at the National Cultural Centre (NCC), earlier today.  The Head of State said that as Guyana advances its 'green' agenda that teachers must be able to train a generation of professionals, who are able to develop the nation's resources and take advantage of opportunities that will become available.
"Guyana is on the way to establishing a 'green' state; one that emphasises the protection of our environment, the preservation of our biodiversity, the provision of eco-tourism and eco-educational services and the promotion of practical measures to ensure climate adaptation. Teachers must understand thiS", President Granger said.  
Noting that science is about energy-generation, solid-waste management and creating 'green' schools, compounds and communities, the President said that investment in these areas of education will create an efficient education system, which can train the future builders of the country.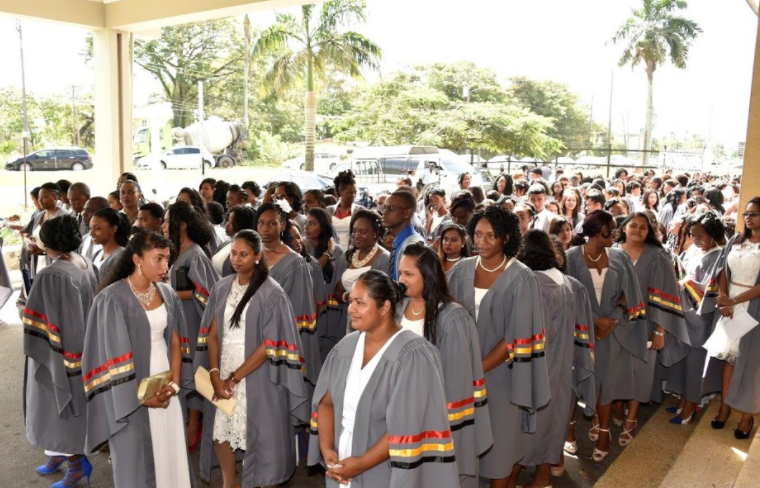 "It takes an efficient education system to: train the architects, contractors and construction workers to build our houses; computer scientists to enhance our knowledge and expedite our transactions; and medical doctors and technologists to protect us from epidemic disease or to cure our everyday disorder; train thousands of persons in manufacturing to fabricate machines to process foods and make utensils; miners to produce bauxite, diamonds, gold and manganese; train young people, to encourage them to be inventive and innovative and to provide them with the opportunities to develop practical solutions to the physical challenges we face; and train a generation of teachers to produce new textbooks to support the new teaching and to devise new techniques to transform our lives," he said.
In this regard, the Head of State said that teachers must be more than mere tutors. Instead, they must be agents of socialisation; implanting knowledge, inculcating values and infusing the right attitude in them.
"Teaching can be improved in three ways: standards, skills and supervision. Principals, parents, teachers and students must be clear about what is to be expected in the classroom. These standards must be measurable and implementable and must be the responsibility of the principals and the educational authorities; teachers, through training, must be exposed to modern teaching skills so that they can be effective in transmitting knowledge to, and in building character in, students. Teacher training must be a career-long exercise, pursuing professional development either in education or through specialisation in subject areas and heads of schools have a vital role to play in ensuring that the full curricula are delivered, that teachers complete their assignments and that classroom time is not lost," he said.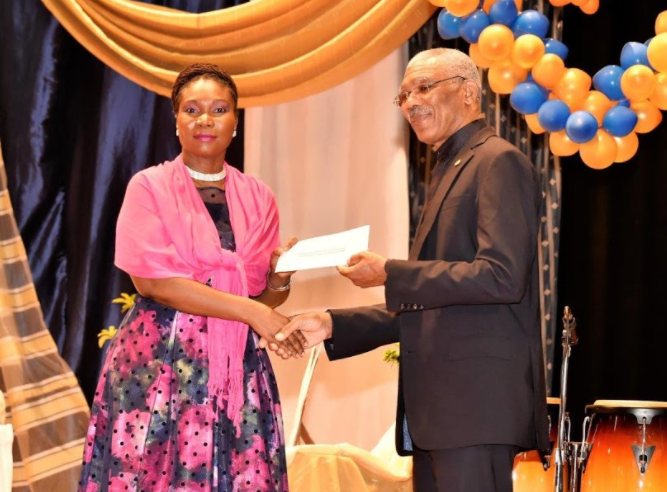 Further, President Granger noted that training is essential for teachers. It is necessary for them to upgrade their skills, acquire new knowledge b so that they can master new pedagogies, techniques and technologies.  He added that this administration is aiming towards a full cadre of trained teachers.
"The untrained teacher has no place in the future of our educational system. I like to use the analogy about a flying in an aeroplane. No one would fly in an aeroplane piloted by someone, who is not trained. So why should anyone allow an untrained teacher to be tasked with educating children? Trained teachers are essential to halting the decline in educational standards. We are facing a crisis in primary education with shockingly high dropout rates and abysmally low pass rates at the National Grade Six Assessment. Improvement in educational attainment, countrywide, cannot be achieved unless we populate all of our schools with trained teachers," the President said.
Meanwhile, Principal of the CPCE, Ms. Viola Rowe, in her remarks, said that the College will be embarking on an evaluation of its approach to the subjects particularly Mathematics and will be working closely with the Ministry of Education, to ensure that all weaknesses are addressed so that better results can be recorded in 2017.
"CPCE is also concerned about the overall decline in the performance of Mathematics in schools as is evident in, for example, the results of the 2016 National Grade Six Assessment. We intend to review our approaches to the delivery of the Mathematics programme and would like to take this opportunity to recognise our Ministry of Education's Plan of Action to improve the performance of Mathematics, in this instance, at the Grade Six level. The College also acknowledges the force behind this initiative and would like to assure all stakeholders that we will not rest until we get it right," she said.
 The Best Graduating Student this year, Ms. Hirannie Persaud, received the President's prize inclusive of the Plaque of Excellence, Certificate of Excellence and a voucher. Over 400 teachers graduated with Associate Degrees and Trained Teacher's Certificate in several programmes including Early Childhood, Primary, Secondary Academic, Secondary Pre- Vocational and Technical Instruction.