The nude and decomposing body of a man was found on Wednesday morning, fastened under a number of large rocks at the Kitty Seawall area close to the seaside.
The man's identity is unknown and police investigators believe it may be difficult for someone to positively identify the body  because of its state of decomposition and bloating.
It took undertakers close to an hour to get the body from beneath the rocks. Pieces of wood had to be used to shove the rocks aside.
Investigators believe the man may have died a few days ago. They noticed no visible marks of violence on the body.
A family from Georgetown rushed to the scene in an effort to identify the body with the hope that it may have been the body of a relative who was a fisherman and fell off a fishing vessel out in the Atlantic ocean a few days ago.  However, they were unable to make a positive identification at the scene.
The body was discovered by an overseas based Guyanese who is home for the Christmas holidays. The man said he was walking along the seawall just before 8:00 am today when he spotted the body.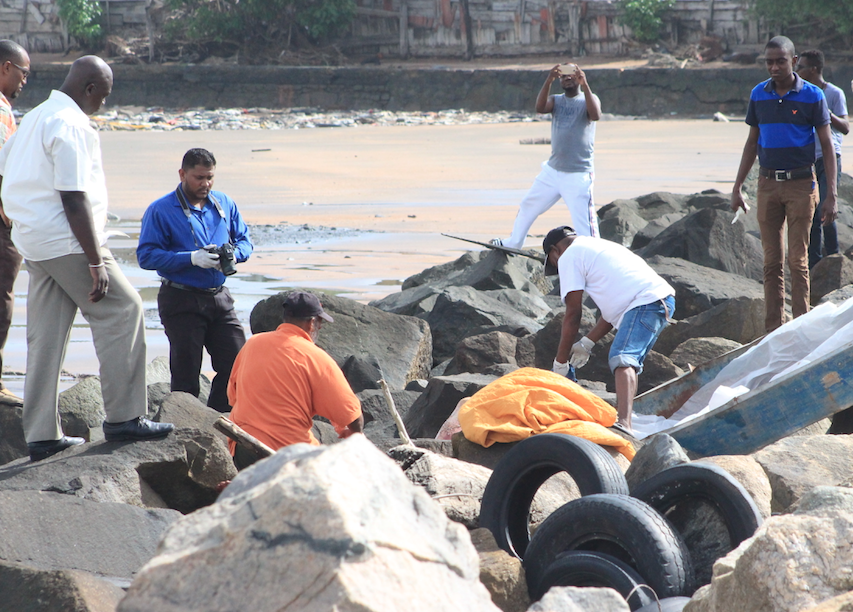 He said he immediately called 911 emergency but was told by the Police officer that he was in fact onto the Kitty Police station and would need to call the Alberttown Police station to handle the report. He said he became furious and asked the police on the other side of the line, why she can't call the Alberttown station since he is unaware of the number for the station.
"To my shock and surprise, the woman said she is a Police but she does not know the number to the other police station and I would have to find it on my own".
He said another man who was also walking along the seawall and spotted the body was able to stop two motorcycle riding traffic officers and they were the ones who summoned other police to the scene.
A probe into the death is ongoing.