The Guyana Government intends to push ahead with its support for the renaming of the Ogle International Airport despite the ongoing controversy with the move to name the facility after Guyana's first Minister responsible for Aviation, Eugene F. Correia.
On Wednesday, Public Infrastructure Minister David Patterson told media operatives, while at the airport, that the administration intends to have a renaming ceremony on May 9, which will coincide with the jubilee independence celebrations.
Patterson said the injunction which was filed has been dismissed but cautioned that should any other legal actions arise, the government will ensure its move to rename the facility is law-abiding.
Most of the airline operators who work out of the Ogle Airport are against the renaming of the airport after Correia. The operators believe that adding the Correia name to the airport could give the Correia company, which already owns 60% of the airport, a bigger advantage in the busy local aviation sector.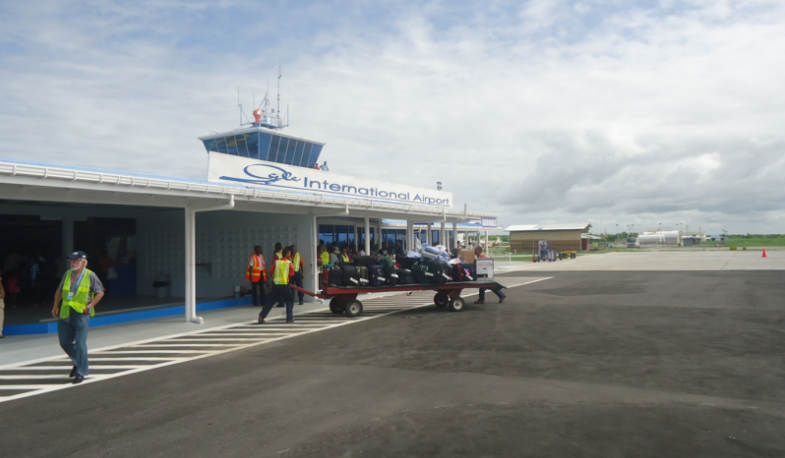 But Patterson has dismissed that argument and he said the renaming is being done in recognition of the contribution of a Guyanese and he doesn't see how it can commercially affect other operators.
"The renaming of the airport comes with no additional charges, no additional fees, the longitude and latitude of the airport remains the same, it's only a name change in recognition of someone who worked towards the aviation sector which we have," the Minister said.
He said the move is simply to honour another Guyanese.
"We have decided that its time to honour other outstanding Guyanese, this is not a personal issue. It's just unfortunate that the man's name is Correia, it could have been Patterson. I wonder if they would have objected if it was Patterson," he added.
The Minister said he believes the objection is to the name but said it should not affect the operations of the airport. In a statement earlier this week, the Private Sector Commission said the renaming of the airport in favour of a former public official of the same last name as that of the Chairman of the Ogle Airport Inc. will add to the already filled vessel of complaints regarding anti-competitive behavior of the Board of Ogle Airport Inc.
The PSC said the operators publicly and privately have expressed their opposition and dissatisfaction with the re-naming of the airport and the PSC now urges the Government "to consider carefully the views of the majority of operators at Ogle Airport in the interest of all concerned and to complete the promised audit and review".