The six men who were recently nabbed at a Police road block on the East Bank of Demerara with several guns and a stolen car after a failed robbery appeared in Court today.
They were all slapped with eight charges ranging from illegal possession of weapons to conspiracy to alter the registration of a motor vehicle.
Thirty-year-old Steve Hercules pleaded guilty to six of the eight charges. The other five men entered not guilty pleas.
Those entering the not guilty pleas were Nabadinghi Gobin, Renard Khan, Mark Prince, Edward Skeete and Marvin Blackman.
The Court heard that on the 10th April at Grove Public Road, they all had in their possession, 11 lives rounds of 9mm ammunition, 6 (.32) live rounds, one 9mm pistol, 11 live 9mm rounds, one .32 Taurus pistol, and one 9mm pistol.
It was further alleged that the  five men who pleaded not guilty conspired with Hercules to change registration plate number for a motor vehicle that had been stolen. 
The Court was told that on the 10th April, Hercules fraudulently changed the identification number for a the silver Premio motorcar.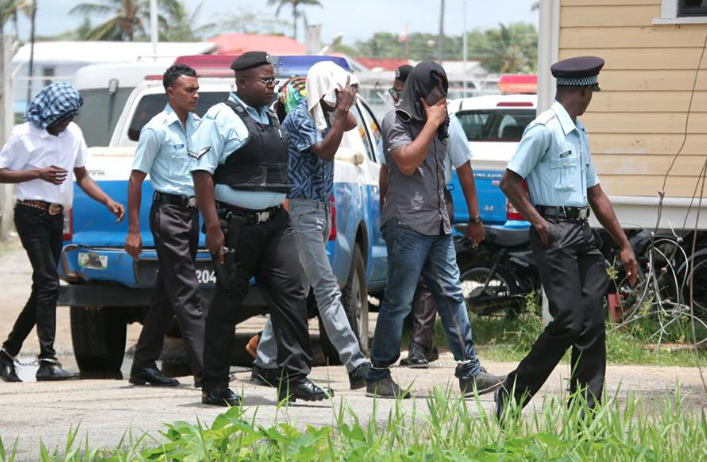 The Police Prosecutor told the Court that the six men were stopped at a Police road block and the discovery of the weapons was made after they were told to get out of the vehicle.
Hercules who pleaded guilty, in a statement to the Court, told the Court that an unknown man contacted him from the interior region and requested that he transport the illegal guns to an area and he would be paid $50,000.
He  claimed that the other men were only passengers that he had picked up along the way.
Bail was refused for the five men, and Hercules was also taken back to prison to await sentencing for the guilty pleas that he entered. It was also revealed to the Court that a number of the men have been fingered in other crimes. 
The six were arrested moments after a failed robbery attempt at the home of a poultry farmer on the East Bank of Demerara. A surveillance video recorder captured their attempt.
The case will continue later this month.