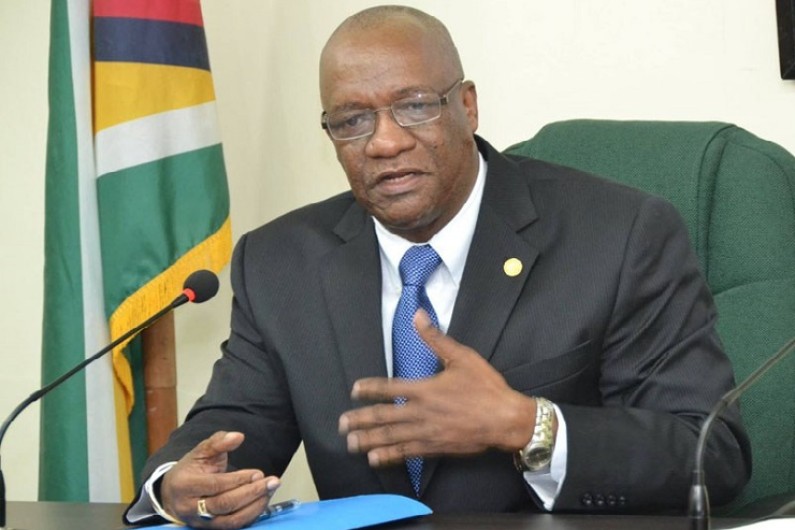 Opposition Leader Joseph Harmon has issued a call for an independent body to be set up to select the next Chief Elections Officer, pointing out that a number of the persons who have applied for the position are non-starters and ought not to be seriously considered for the job.
During a press conference this afternoon, Mr. Harmon suggested that an independent panel should interview the candidates for the post and make recommendations for the position.
He said while he does not want to dictate the work of the Elections Commission, it is his hope that the Commission does the right thing and select the right person for the job.
"I can tell you some of the names I see there are a no-no. They are a definite no-no, I trust the Commission don't let them get past the first stage of anything," Mr Harmon declared.
Among the persons interested in the job are former Chief Elections Officer Gocool Boodoo, Former GECOM Public Relations Officer, Vishnu Persaud, Former Permanent Secretary in the Office of the President, who was also a candidate for the PPP in the 2015 elections Omar Shariff, former Presidential hopeful Saphier Hussain and GECOM I.T Officer Aneal Gidding.
A number of other local and international professionals are also listed among the applicants for the top Elections Commission job.
'It is all like an internal arrangement, but the impact of what happens there affects all of us here in Guyana. So, it can't just be a lil in-house business. But we will be paying very close attention to what emerges," the Opposition Leader said.
A few months ago, GECOM terminated the contracts of its Chief Elections Officer, his Deputy, and the Region 4 Returning Officer after the Government nominated Commissioners tabled a motion to terminate their contracts.
The three officials, Keith Lowenfield, Roxanne Myers, and Clairmont Mingo are currently before the Courts facing various charges of misconduct in public office and allegations of fraud related to last year's general elections. They have denied all of those charges.