President David Granger and Opposition Leader, Bharrat Jagdeo met this morning at State House to begin consultation on the appointment of a Chancellor of the Judiciary and a Chief Justice.
The President was accompanied by his Attorney General, Senior Counsel Basil Williams and the Minister of State, Joe Harmon.
The Opposition Leader attended the meeting with his Chief Whip in Parliament, Gail Teixeira and his party's Legal Adviser and Member of Parliament, Priya Manickchand.
President Granger has nominated current Belize Chief Justice, Guyanese Kenneth Benjamin for the post of Chancellor of the Judiciary and Guyana's current acting Chancellor, Yonette Cummings Edwards has been nominated for the position of Chief Justice.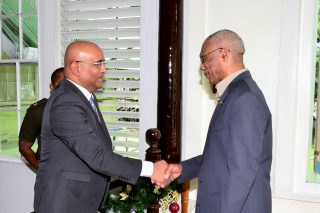 The Opposition Leader, Bharrat Jagdeo requested that he be given more time to consider the nominees and the two leaders agreed that they will meet in February to continue their consultations on the appointments.
The Constitution allows the President to make the appointments only after the agreement of the Opposition Leader.
When the two meet again, the Opposition Leader will be expected to make it known whether he agrees with the nominees.
If he does, the appointments will be made, but if he does not agree, the President could find himself putting forward new nominees or trying to convince the Opposition Leader to change his mind.
Guyana has been without a substantive Chancellor of the Judiciary for over a decade.