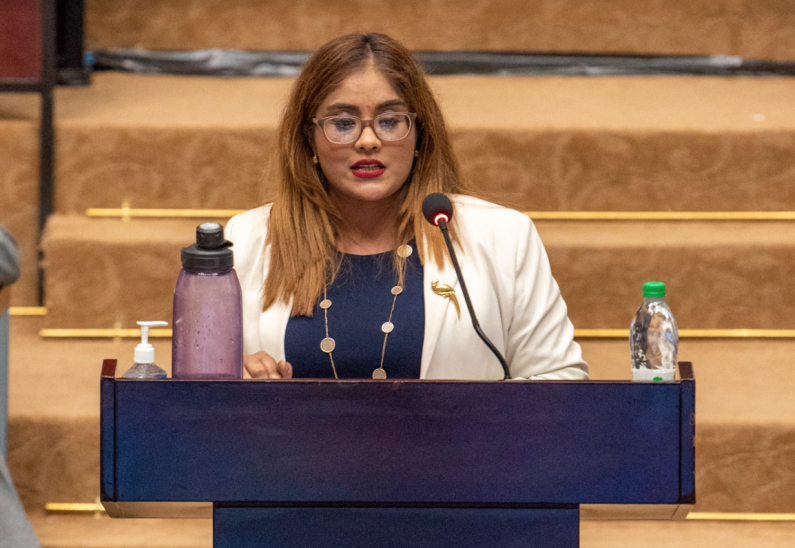 Opposition Member of Parliament with responsibility for the security sector Geeta Chandan-Edmond has condemned the government for using the Cybercrime Act for going after its critics, saying that was never the original intention of the legislation.
She said the argument that the Act was passed under the coalition is outdated.
According to the Opposition MP, the Coalition had intended to use the Act to stop child pornography, the sharing of persons' nude photos without permission, and the use of electronic devices for terrorist activities. She said the Government appears to be using the act now to settle political scores.
"It was never envisaged to be used to protect thin-skinned snowflakes in the government from emotional abuse and trauma because they are subject to public critique and ridicule," Chandan-Edmond said.
Since the PPP has taken office, the Cyber Crime Act has been used several times by the Police to go after political opponents and critics of the government, the Opposition has noted.
The Member of Parliament who is an Attorney and former Magistrate said Guyanese are now living in fear because of the manner in which the government utilizes the Cybercrime Act and monitors social media to go after persons who would say things not favorable to the government.
"We call on the government to stop abusing the CyberCrime Act. We want to return to the simple pleasure of posting our views, our candid views on social media in a very candid way and in a very responsible way also," She said.
She recalled that under the coalition, freedom of speech was practiced and no one was arrested for sharing their views, irrespective of how disrespectful some of those views were.
She said the use of the Cyber Crime Act sank to a new low when it was used to go after a cartoon character.
"The only solution is to ensure that you have your ID cards waiting and ready to return the APNUAFC government to power so that we can return to the glory days of freedom of speech," She noted.
Several persons have been arrested and charged under the Cybercrime Act. In some of those cases, Government officials were the ones filing police complaints claiming emotional distress.