The internal elections for a Mayor and Deputy Mayor of Georgetown was full of drama on Thursday afternoon as Councillor Sherod Duncan withdrew his candidacy for the position hours before the vote was set to take place. 
In a Facebook post, Duncan revealed his decision, stating that "in the last few days the local government process has been tainted with ministerial intervention and it is my belief that Councillors have been coerced to give their support in a particular direction to maintain the status quo; undermining the democratic process."
The post continued, "this and the use of municipal resources to campaign for the incumbent does not auger well for our local democracy, and presents an unleveled playing field; a selection of Mayor and not an election."
"These factors have caused me to reevaluate my candidacy. I therefore withdraw my candidacy for Mayor of Georgetown."
As the Council convened for the elections, a handful of vendors gathered outside of City Hall with cardboard signs in support of Duncan. 
A Stabroek Market stall holder told News Source that he believes Duncan was the "man for the job" as he knows how to deal with the people, "something that Chase-Green knows nothing about."
Despite this, Patricia Chase-Greene retained her title as Mayor for 2017 with no opposition.
After being re-elected Mayor, she thanked God for being re-elected and noted that she will be putting her best foot forward to the further development of the city. She pointed out that this is "the city we love and dwell in, it is becoming a better city, a modern city."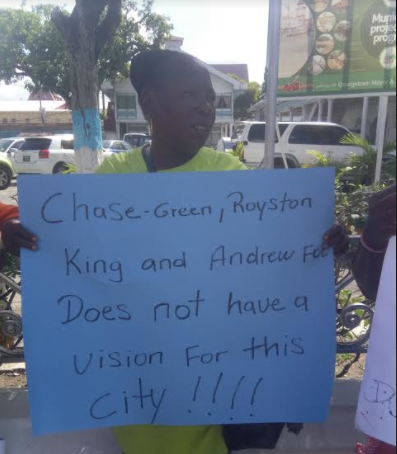 Meanwhile Councillor Carolyn Caesar was nominated for Deputy Mayor along with Councillor Lionel Jaikarran and Councillor Malcolm Ferreira.
In the end, it was Jaikarran who was unanimously voted in, and secured the seat of Deputy Mayor for the coming year of 2017.
Jaikarran thanked those who voted for him and said that he is overwhelmed by the trust placed in him but advised that he could not change things overnight.