Former Minister of Public Infrastructure David Patterson and former General Manager of the Demerara Harbour Bridge, Rawlston Adams appeared in Court this morning to face fraud conspiracy charges related to a contract for a feasibility study for the new Demerara Bridge that was signed more than three years ago.
Both Patterson and Adams were granted bail in the sum of $200,000 and will have to make their next Court appearance on the 15th of February. The charges are indictable and therefore the two accused were not required to enter a plea.
The matter was heard by Magistrate Leron Daly after the Chief Magistrate recused herself from the case, saying both of the accused are known to her.
Outside the Courthouse today, supporters of the APNU+AFC gathered to voice their objection to the charges and protest the move by the Police.
Attorney Nigel Hughes who is among the Attorneys representing Mr. Patterson in the matter said the allegation is malicious.
"The background of this allegation is that a foreign government approached the Government of Guyana, specifically an agency of the Ministry that Mr. Patterson headed, expressing their interest in providing services to the Government of Guyana on the feasibility of the Demerara Bridge. This was not an action initiated by Mr. Patterson and therefore in the circumstances, we believe that this charge is not only unfounded by is also malevolent", Hughes said.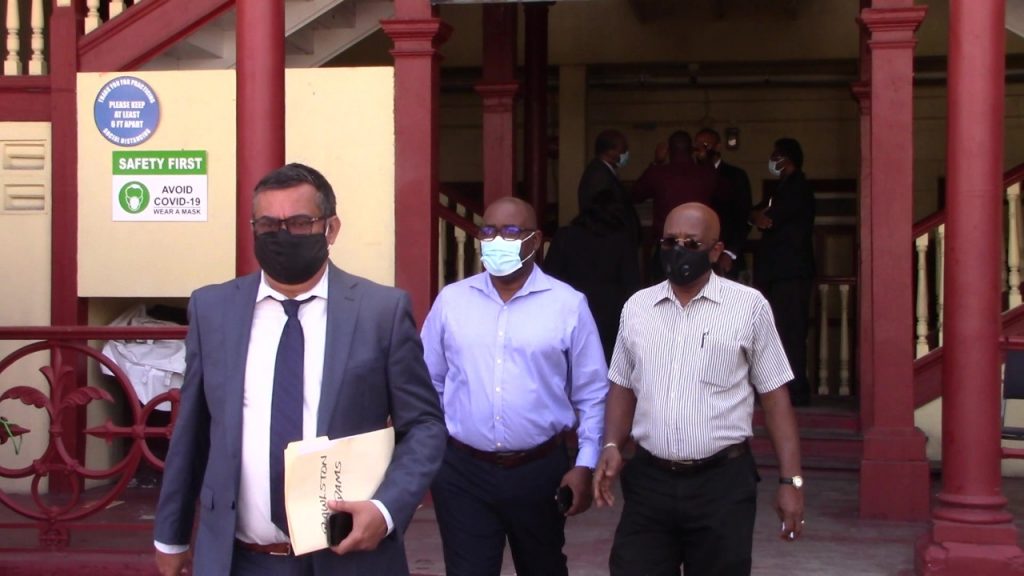 The Attorney said it should also be noted that the same feasibility study that was done under Patterson is the one being used by the PPP government as it moves ahead with plans to build the new Demerara bridge.
"So this matter and the institution of these charges, seem clearly to be in the realm of political rather than legal jurisprudence", the Attorney said.
Patterson's legal team is being led by Attorney Ronald Burch-Smith.
Mr. Rawlston Adams is being represented by Attorney Glen Hannoman.
The Prosecution's case against the two is that they conspired with each other and persons unknown between 2016 and 2018 to defraud the state of Guyana of more than $160 million when the contract was signed with the Dutch company, LievenseCSO for it to conduct a new feasibility study for a new bridge across the Demerara river.
The People's Progressive Party which was in opposition at the time had raised some concern about the contract and those concerns triggered an investigation by the Special Organised Crime Unit.
At the end of the investigation and following advice of the Police Legal Advisor at the time, Justice Claudette Singh, no charges were filed in the matter as Legal Advisor found that there was no criminal act involved in the awarding of the contract.
But the matter was reignited after the PPP got into government last year and last week, SOCU made a decision to institute the charges.