The United States and Guyana are celebrating 50 years of diplomatic relations and that milestone comes at the same time that the US is celebrating its 240th Independence Anniversary.
At a reception on Wednesday evening, U.S Ambassador to Guyana Perry Hollaway offered advice on protecting Guyana's own freedom and liberties of Independence.
The U.S envoy said citizens must pay their taxes and learn to hold the government more accountable.
He said there are lessons that could be learnt from the United States and its development.
"Pay your taxes and then hold your government accountable for using them well. We all want our governments to do everything but governments cannot turn wine into water. It needs funding to function and funding comes from taxes whether we like it or not," he said.
Mr. Holloway noted that Guyanese must ensure they participate in elections and political campaigns and push for investment in education in order to protect the freedom they fought for and gained 50 years ago. He also used the occasion to reflect on the Guyana/U.S relationship, observing that while much has been achieved it was not always smooth sailing.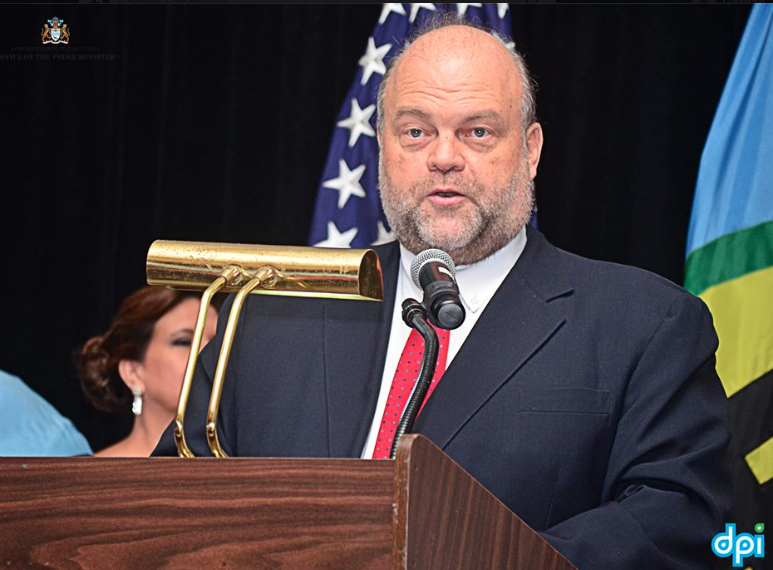 The Ambassador said the relationship, as it is now is now, is the best it has ever been and he reminded of the gifting of the Atkinson airbase, now the Cheddi Jagan International Airport to the people of Guyana, the help Guyana received from the U.S to build the Linden Highway, the U.S participation in democratic elections coupled with the more recent anti trafficking and other security and health related support.
He said the U.S will continue to support Guyana's development and is only interested in a prosperous and inclusive state.
Prime Minister Moses Nagamootoo delivered a message penned by President David Granger in which Guyana congratulated the U.S and also reflected on the shared relations over the years.
(Kurt Campbell)