The owner of the Pegasus Hotel, Robert Badal is denying reports that during Sunday's small fire in one of the kitchens at the hotel, smoke alarms never went off and exit doors were padlocked.
In a statement issued today, Mr. Badal explained that there is a "multitude of misinformation and lies" that have been appearing in the media about the incident.
The media reported on statements made by one of the guests of the hotel after the evacuation took place. But the hotel is saying that the person who gave the statements to the media might not have been a guest there.
"The account of one person saying that he was a pastor and having to evacuate his family from a higher floor and saw chains on exit doors was totally false. We put all families on the same floor and there is no record of that pastor being a guest. We have footage of everyone who were guests of the Hotel on that night", the owner contends.
But Badal explained that when the small fire was ignited on a fryer in the kitchen, it was extinguished within ten minutes by Hotel Staff as the smoke alarm triggered emergency response.
He said it was residual smoke that entered the lobby and a few other areas which caused anxieties and inconveniences "to some of our guests".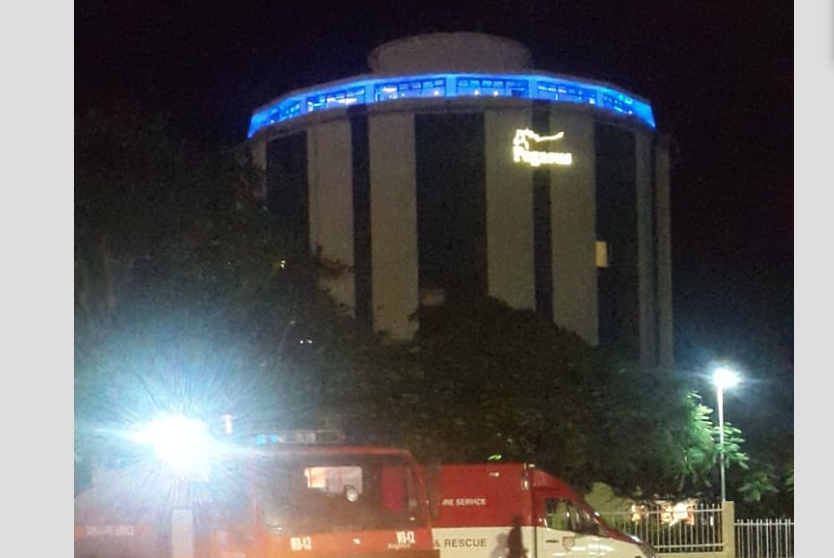 According to the owner, "while there was no immediate serious danger, Management decided to evacuate Guests for a short period out of an abundance of caution as per our standard operating procedure."
He said the evacuation was orderly and swift as smoke alarms in every room alerted guests.
"At no time were any locks on exit doors as there is never such at any other time", he stated.
Badal said by the time the Fire Service arrived on the scene, the fire was already extinguished and evacuations were near completed.
He said fire officers were never required to evacuate anyone and guests were allowed back to their rooms.
Mr. Badal said Pegasus has a long history of safety and security of its Guests and customers and its latest model Honeywell Fire Response System performed well as all of the hotel's fire extinguishers were fully charged and Management and Staff of the Hotel were professional and up to the task.
He said the reports in some sections of the media has resulted in a scare that has gone beyond Guyana as many guests now arriving are saying that they thought the entire hotel was gutted.