Police Commissioner Leroy Brummel on Sunday night said police investigators were progressing well with their probe of the gunning down of well-known biker Kirk Davis.
Speaking to family and friends who gathered outside the Brickdam Police Station for a candle light vigil for justice, Commissioner Brummel said "we have been working on it, so I don't know why ya'll are pressuring headquarters". When asked by News Source what is the current state of the investigations, the Police Commissioner said "we are going fine".
Further questioned as to why there has been no wanted bulletin issued for the businessman fingered in the murder, the Top Cop said "ya'll aint hear is Jagdeo? Ya'll aint hear I said is Jagdeo did it?" The Commissioner was referring to Water Street businessman and biker Randy Jagdeo who has been named by a number of witnesses as the person who shot and killed Davis over allegations that Davis was having a relationship with his wife.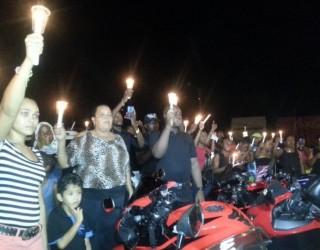 Persons who were in the area when the murder took place, recalled hearing a female voice screaming "Randy don't do it", just before gunshots were heard. Persons who were in  the Eccles area close to the murder scene, also recalled seeing the businessman standing outside of his silver Toyoto Premio car and firing a number of shots into the back of the car where Davis was sitting. Reports indicate that Davis' body was dragged from the car and thrown to the road in front of his house where additional shots were fired at it.
The young biker was rushed to the Georgetown hospital where he died.
The woman heard screaming "Randy, don't do it" is believed to be the businessman's wife. She is nursing a gunshot wound in a private city hospital. She may have been hit with a bullet while shots were being fired at Davis in the same car.
A  post-mortem examination revealed that the young biker was shot 16  times to his body. Relatives are upset that the Police Force has not issued a wanted bulletin for the suspect in the case.
On Sunday night, scores of bikers, relatives and friends gathered at the Cuffy Square where they began the candle light vigil. The vigil eventually moved to outside the Brickdam Police Station. The bikers then rode off together to pay tribute to their fallen friend.
The late biker's son who will be celebrating his 11th birthday in the new week broke down in tears as he held up a candle for his dad. According to relatives, the boy and his father shared a very close relationship.
The family said they need justice to be done in the matter.