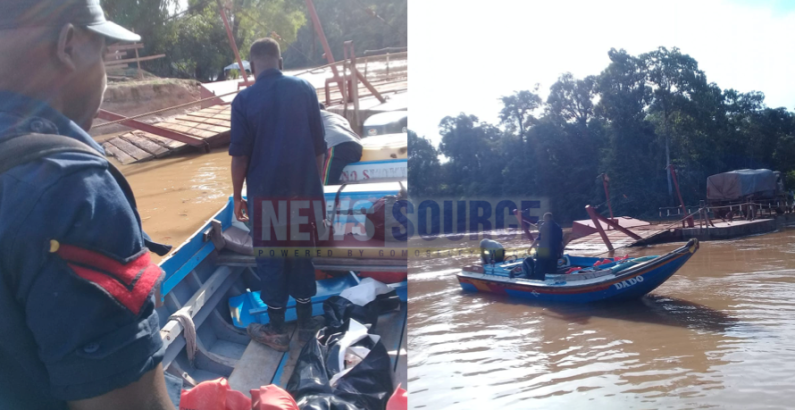 A subordinate Officer and a Constable of the Guyana Police Force have been arrested as an investigation has been launched into the shooting death of Brazilian miner, in the Puruni District.
According to an official Police Force statement, the incident occurred on Saturday while the two were on patrol on Saturday.
It is reported that the two Policemen "abandoned" the Kurupung Police Station on Friday morning, leaving on an ATV for patrol duties.
They eventually joined a boat an proceeded to a landing along the Puruni river. On arrival at the Landing on Saturday, the Subordinate Officer, claimed that he remained in the boat while the Constable who was armed with a rifle, proceeded to shop.
The Officer claims that shortly after he heard two loud explosions and upon leaving the boat to make enquiries, he was told by the Constable that the Brazilian miner fired a shot at him and he returned fire, hitting the man to the head.
The body of the Brazilian miner was seen lying on the ground a short distance away and was taken to the main landing.
The Police statement revealed that around the same time, two other Police officers who were in the area at the same time, arrived on the scene and took possession of the firearm that was in the possession of the Constable and contacted the Divisional Commander.  The two were brought out from the area and placed under arrest while a team of investigators was dispatched.
Persons who witnessed the shooting incident have since identified the dead Brazilian miner as 37-year-old, Estevao Marques Costa. They said he worked in the area with his mother and stepfather and they are doubting the Police Constable's version of events that the man opened fire on him.
According to a local miner, who interpreted the account of a Brazilian in the area, the miner upon seeing the Policeman attempted to run from the area for unknown reasons. They claimed that without any warning, the Policeman opened fire on him, hitting the man to the head, although he was a short distance away from him.
The man's mother was also at the scene and screamed out bitterly for justice upon witnessing what had taken place. She intends to meet with investigators today.
News Source understands that Police ranks would make regular patrols in the communities along the Puruni river to investigate reports of illegal mining and to inspect the documents of persons mining in the area.
The probe continues.