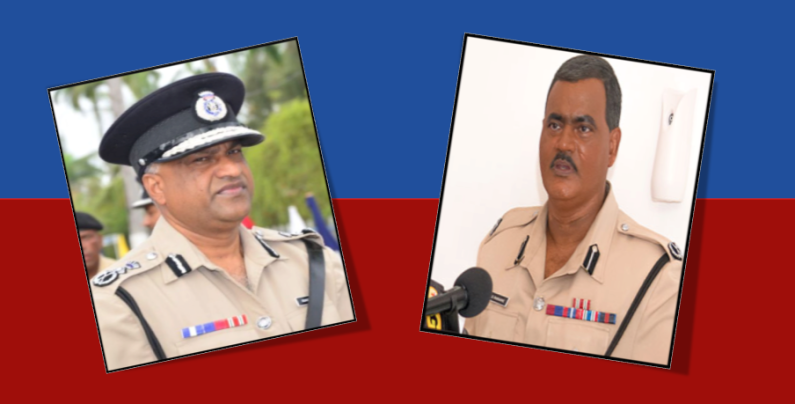 Several Police officers ranging in rank from Lance Corporal to Sergeant, who were promoted while Assistant Police Commissioner David Ramnarine acted as Police Commissioner, are expected to be reverted to their previous rank.
Police Commissioner Seelall Persaud is back in command of the Guyana Police Force following 100 days of leave and he has decided to rescind all of the promotions authorized by Ramnarine because he believes Ramnarine did not have the authority to make the appointments although he was Acting Police Commissioner.
In a letter dated November 3, 2016 and dispatched to the Administration Department of the Force, Police Commissioner Persaud declared that the appointments are all "null and void"  because "Assistant Commissioner Ramnarine misinformed himself that he has authority to make any such appointment in the absence of an instrument issued by His Excellency the President."
The Police Commissioner's contention is that although he was on leave, he still remained the substantive Police Commissioner and Ramnarine was only acting in the position and therefore did not have the constitutional power to make the appointments since he was without any appointment as substantive Commissioner of Police.
Persaud quoted the Constitution Article 212 (3) which authorizes "the Commissioner of Police to make appointments to any offices in the Police Force below the rank of Inspector".
He further informed the Administration Department that the Constitution indicates that the appointment of a Commissioner of Police is done by the President and the President makes such appointments by issuing the instrument of appointment as Police Commissioner and none was issued to Ramnarine since he was only acting in the post.
Commissioner Seelall Persaud in his letter asked that the affected officers be informed of their promotions being null and void. He also sent a copy of the letter to the Finance Department of the Police Force.  That move is expected to see the salary increases that came with the promotions also being revoked.
News Source understands that the Commissioner is also reviewing a number of other decisions that were taken by Assistant Commissioner Ramnarine while he acted as Police Commissioner. Among them, the firing of a number of police officers.