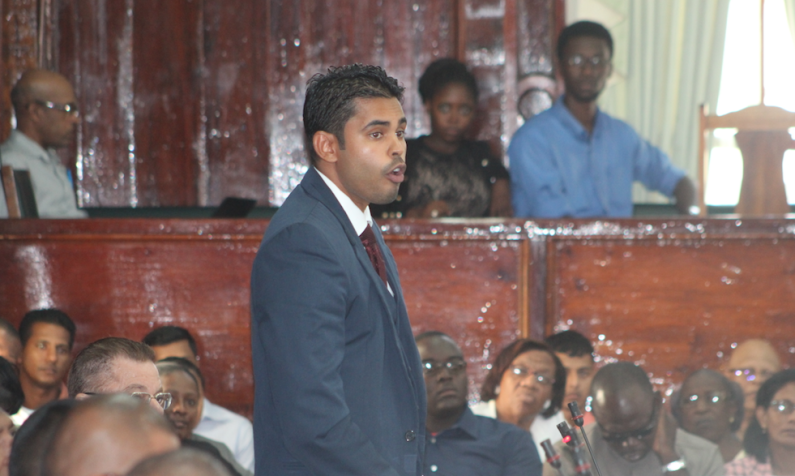 The opposition People's Progressive Party on Monday confirmed that Member of Parliament Charles Ramson Jr. will tender his resignation from the House as he prepares to take up a Chevening Scholarship that has been granted by the British Government to study abroad.
Party General Secretary Clement Rohee told News Source that discussions surrounding Ramson's political future have been ongoing.
"Discussions have taken place with him and he will take a course in respect to his presence in the National Assembly that will see his seat being vacated and being replaced by another Member of Parliament," Rohee said.
He explained that already there are several nominees that are under consideration to replace Ramson but the Party is yet to decide on which of the nominees will take up the post.
Rohee said the same process that was used to identify the 32 MPs following the May 2015 elections, the same criteria and assessment will be employed in selecting the person.
Rohee does not believe Ramson's departure will hurt the Parliamentary Opposition. "He may very well be replaced by someone who is equally qualified or by someone who is just as effective in presenting a case and so forth, that's why we are looking ta more than one person," he said.
The General Secretary said every MP has his/her own strength that he/she brings to the National Assembly.
The PPP is likely to have the new MP sworn in when the House returns from recess.
Ramson, who is an Attorney, is one of more than twenty young Guyanese who applied for and were granted the prestigious scholarship to complete his Masters at a British University.
He is expected to begin his studies in September this year and will have to move to the UK full time to complete the scholarship.
Ramson has already accepted the offer.