It took just one man to initiate rage among  dozens of supporters of the People's Progressive Party who were protesting outside the Guyana Elections Commission on Monday morning, as he launched a counter protest against the PPP and its claims of electoral fraud in the just concluded elections.
This is the second week that the PPP is mounting its protest outside the Commission's High Street, Georgetown Headquarters, demanding a recount of all ballots and the resignation of GECOM's Chairman Dr. Steve Surujbally.
But former President of Transparency Guyana, Gino Persaud who is an Attorney-at-Law believes it is time the PPP puts an end to its "sham" and accept the results.
Though unwelcomed, Persaud stood his ground with a placard that read "the back of PPP corruption is broken."
He said "I am mounting a counter protest to this sham the PPP is engaging in. To my mind the fact of institutionalized and entrenched corruption in the former PPP administration has been broken and I am thankful for that".
Persaud's presence outside GECOM attracted the resentment of several leading party members who hurled nasty remarks at him.
Some protesters attempted to charge after him but were prevented from doing so by the police. Persaud said the body which he represents supports the pronouncements by the United States, Britain and Canada, along with several international observer missions that the elections were free, fair and credible.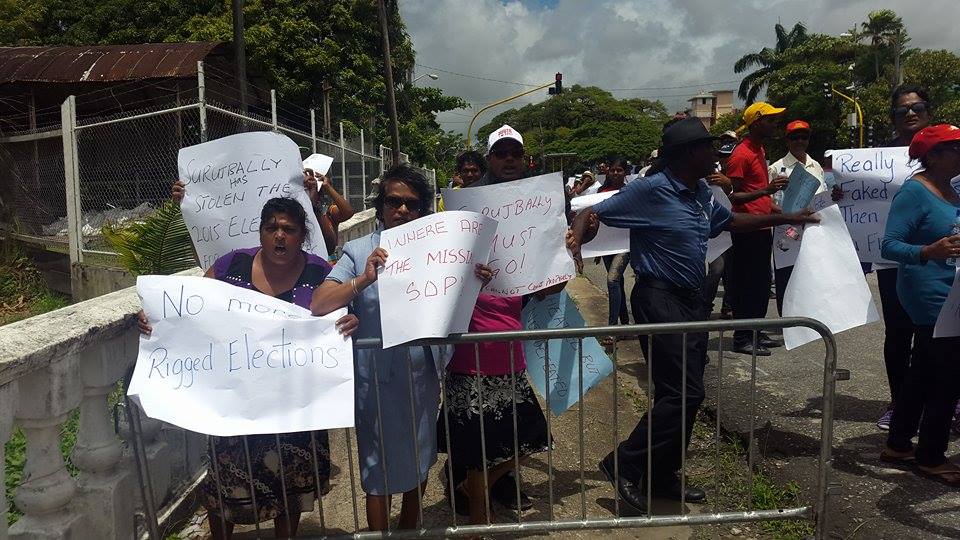 "I think it is common knowledge that everyone has accepted that the elections were free and fair. They need to comment on their track record of corruption over the years," he added.
Transparency Guyana had lent support to the Electoral Assistance Bureau by volunteering its human resource. The EAB has also said the elections were free and fair.
"This was a spur of the moment today. The last time I saw this protest, it was unbelievable. Today I felt that I need to mount the counter protest," he said.
Persaud is a founding Director of Transparency Guyana and over the past years has been involved in anti-corruption initiatives while lobbying the PPP administration to do more to fight corruption across the country.
He claims to have been victimized by the PPP administration for his work with the Transparency group. (Kurt Campbell)