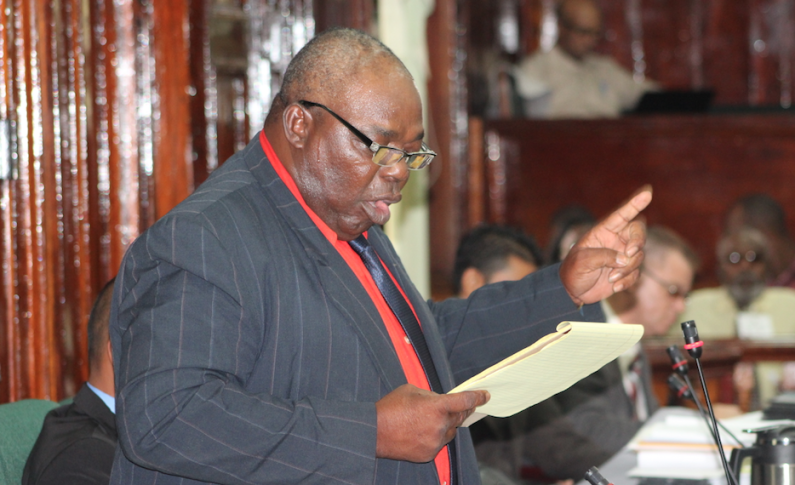 Opposition Member of Parliament for Region #2 Cornel Damon opened the budget debates at Wednesday's sitting of the National Assembly by describing the $221 Billion fiscal plan of the APNU+AFC government as "sloppy" and slammed Public Security Ministry Khemraj Ramjattan over what he said was a worsening crime situation.
Damon, during his presentation, said the document lacks the ingredients that should have been injected into it to improve security for the masses and the progression of various regions and sectors of Guyana.
His comments were met with immediate rejection from the government Members of Parliament who spared no effort to heckle the member until he concluded his 15 minute presentation.
The government has allocated $21 billion for the strengthening and improvement of the National Security Service in the 2015 budget.
However, the PPP MP said he hopes the Security Minister will lay out workable solutions to the crime situation in Region #2 and across the country when he makes his presentation.
"The crime rate has increased in all the regions including the gold mining areas as the honourable Member is still planning how to churn crime in Guyana," he added.
Damon is of the strong view that Public Security Minister, Khemraj Ramjattan should be removed from the post. "We heard in 10th Parliament that Rohee must go… but Ramjattan is the one that must go!"
Ramjattan has been in charge of public security for the past three months.
Clement Rohee served as Minister of Home Affairs under the PPP government for nine years.
The PPP Member said "it is impossible for the Honourable Minister of Public Security, who represented some of the most dangerous criminals including bank robbers to have any control over the crime situation… once again Mr Speaker this is not the 10th Parliament… this is not about honourable member Clement Rohee… Ramjattan must go!"
Damon pointed out that original projects in Region #2 have been cut by almost half but says his constituent will try to survive and "hope that someday we will have the government of the PPP/C returned to its righted office."
"From the day APNU+AFC came into office through rigged elections, region two has been shouting foul, Region 2 continue to stand solidly behind the PPP who they are confident Bharrat Jagdeo will be the next President of Guyana."
Turning his attention to rice, Damon called on the government to renegotiate the oil for rice – Petrocaribe – deal with Venezuela with the use of the expertise of members of the opposition.
"If rice is not addressed now by the Government it spells doom for every sector of Region 2 and Region3… stop splitting and stop marginalizing the people of these regions," he added
Damon said he personally believes the budget was sloppy.
He accused the Finance Minister of crafting a humongous budget with little time to expedite it.