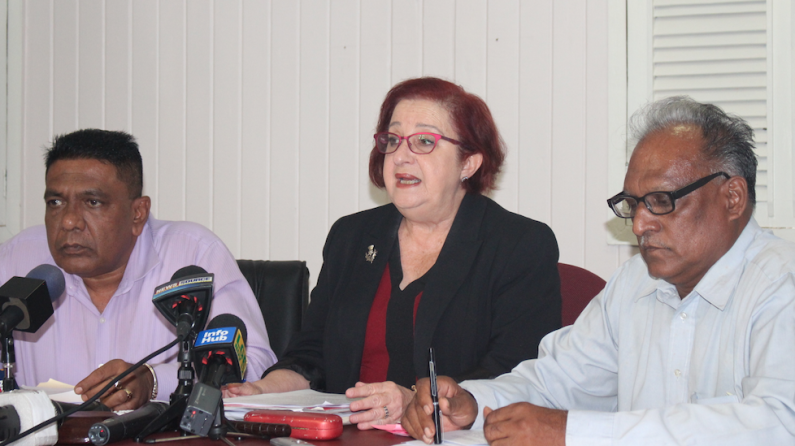 As the countdown begins to the November 12 Local Government Elections, the Opposition, People's Progressive Party is raising concern with the Guyana Elections Commission about a recent decision by the Minister of Communities to declare Mahdia as a new town and add a number of new Neighbourhood Democratic Councils in several areas.
The PPP at a press conference this morning, expressed some worry that although the new NDCs have been announced, the boundaries and demarcations for the areas are still to be known and it is important that the boundaries be made known.
Added to that, the party said many of the areas were declared NDCs without any consultation with the people or anyone else.
Executive Secretary of the PPP Zulficar Mustapha said the issues are of major concern especially with the Local Government Elections fast approaching.
He said the party has met with the Guyana Elections Commission and has expressed its concerns. The PPP, he said, has also raised the issue of reduced constituencies in some areas, believing it might be a ploy by the coalition government to have a stronger showing at the Local Government polls.
Mustapha said it might be an attempt to interfere with the electoral process, but the PPP is ready to do battle.
Party Executive Gail Teixeira said while the party is not contemplating any more to the Court at this time over the issue, it is an opportunity for the Elections Commission to "pull its socks up".
She said the PPP is very prepared for the upcoming elections and she is convinced that the party will once again have a strong showing at the local polls, point out that in the 2016 elections, the PPP captured more than 60% of the local democratic organs.
She is hoping that the matters being raised by her party will be addressed soon by the Elections Commission.