The People's Progressive Party brought out scores of its members this morning in a protest outside the Ministry of the Presidency, calling on President David Granger to name a date for elections.
The President has said he will only name an election date when he has been advised by the Elections Commission of its readiness.
With chants of "set a date now" and "no house to house", the protesters took over the road in front of the President's office and they marched from end to end.
PPP Presidential Candidate Irfaan Ali told News Source that President Granger needs to dissolve the Parliament and call elections even as there are regular engagements between the Government and Opposition.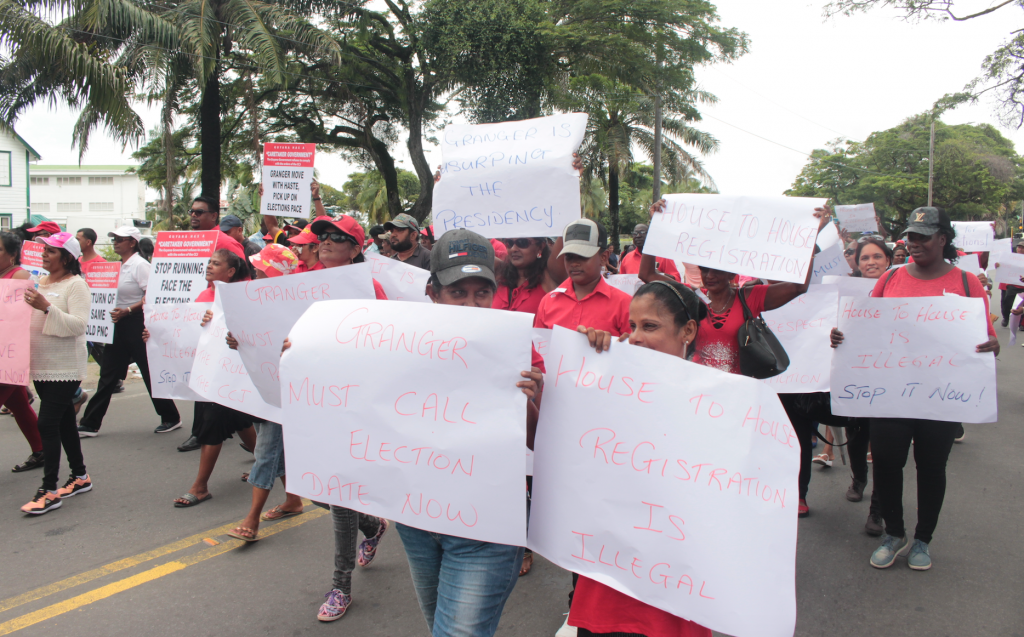 "The two sides meeting has nothing to do with the President executing his responsibility. And according to the Constitution, the President has a responsibility to dissolve parliament and name a date for the elections and that is why we are out here. We are out here day after day to protect democracy", Mr. Alli said.
President David Granger met with Opposition Leader Bharrat Jagdeo and the PPP Presidential Candidate last Friday.
Both sides highlighted some of their concerns and issues related to the hosting of early elections.
The PPP has been pushing for elections to be held by the 18th of September.
Today, the Presidential Candidate said his party is ready to go to the polls and he is confident of a majority victory.
He said "we are ready and the Government understands that we are ready and that we are going to defeat them at the polls"
Mr. Alli accused the coalition government of bringing "hardship" on the people of Guyana.
The protest continued for over an hour under the watchful eyes of the Police.