The People's Progressive Party Civic chose the market tarmac at Lusignan on the East Coast of Demerara to officially wrap up its 2015 campaign ahead on Monday's elections.
Hundreds of supporters flocked the tarmac and spilled onto the roadway as leaders of the governing party urged them to head to the polls on Monday and add five more years to the PPP's 23 year rule.
Most of the main speakers at the rally focused on the prediction by APNU+AFC Presidential Candidate David Granger that the coalition will win the elections by capturing between 58% and 62% of the votes.
The prediction was dismissed by PPP General Secretary Clement Rohee who called it "ridiculous".
Rohee said he is convinced that it is the PPP which will walk away with the majority after the Monday elections.
He said the APNU+AFC Presidential Candidate is confused.
Former President Bharrat Jagdeo in his presentation, pleaded with supporters to head out to the polls on Monday to ensure the PPP wins by big majority.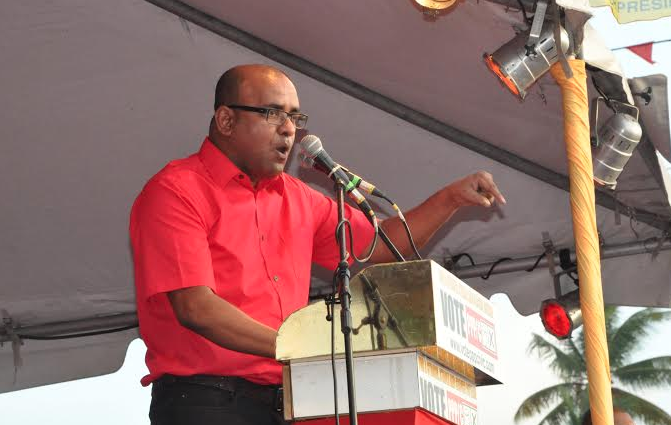 He said the parliamentary majority which the electorate gave the opposition at the last election was never used for anything positive. "and that's why we have to take it back from them".
Jagdeo said "we need back that majority to allow Ramotar to move this country forward."
He told the crowd that if his former school teacher was alive, Granger would have gotten "62 lashes on his backside for misleading the people of Guyana," over his 62% victory prediction.
 "We must not be fooled by this bogus electoral arithmetic," the former President said, alleging that the AFC's support has practically collapsed across the country.
Meanwhile, President Donald Ramotar and his running mate Elizabeth Harper expressed personal gratitude to their supporters ahead of the Monday polls.
The President laid out the PPP's plan should it be re – elected which included major infrastructural upgrades and support for key industries.
He underscored the need too for a landslide victory at the elections.
The President said he was very happy with the large number of international observers but cautioned his supporters to be vigilant on Monday and obey all electoral rules and guidelines to ensure a smooth flow.
The PPP which has seen its support consistently decline over the past three elections, is hoping that there will be a change in that trend and the party will be returned to power.