Dozens of young people attached to the  Progressive Youth Organisation which is the youth arm of the governing People's Progressive Party, picketed the National Assembly on Thursday, calling for the Opposition to support the Amalia Falls Hydro Power Bill.
Last Thursday, the Opposition parties in the National Assembly used their majority to block debate and passage of the legislation for the hydro power project after raising some concern. The Government was not happy with the Opposition's move and has been rallying the governing party and civil society for support.
The protest outside the National Assembly on Thursday afternoon just as the day's sitting was beginning saw dozens of persons holding banners and picket cards and chanting that the opposition parties were making attempts to block progress and to slow down development.
A number of Government Ministers joined the protesters and handed out leaflets and brochures on the Amalia falls project to passing motorists.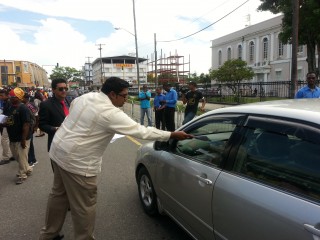 Minister of Housing and Water Irfaan Ali told News Source that the Government no longer needs to "rally up" support for the project. Ali said "the entire country is behind the hydro power project and only today, there was a national stakeholders forum and that forum came up with a declaration that called on all of us in parliament to ensure that the project is reinstated".
He said the protest was just a way of the Progressive Youth Organisation to add its voice to the debate.
Attorney General Anil Nandlall who also joined the protesters said "there is not a person with an irrational mind who they would need to sell the idea of hydro power".
According to the Attorney General who also serves on the Executive of the People's Progressive Party, "the time has come and gone for hydro power, we are trying to make up for what we have lost 25 years ago". The protest lasted for just over an hour.
President Donald Ramotar has called on the Opposition parties to rethink their position on the Hydro Power Bill which did not gain their support in the last sitting of the National Assembly. The President has been reaching out to supporters and civil society members and groups to whip up support.
The Opposition parties, A Partnership for National Unity and the Alliance For Change do not appear to be budging from their positions at the moment. They have called on the Government  to understand the concerns they have and begin open discussions on the project and other legislation aimed at moving the country forward.
(Filed: 25th July, 2013)