With Guyana still facing a racial divide, President Irfaan today issued a call for each Guyanese to fight for the unification of the country.
Speaking at the unveiling of special commemorative stamps to mark the 100th birth anniversary of late President Janet Jagan, President Ali acknowledged that Guyana still faces an uphill battle when it comes to tackling its race relations issues.
"I want to appeal to all of Guyana, in the spirit of all those who came before us, those who are still with us, that is time we stop reflecting in an empty way. The time has come for us in this country to reflect with honourable intentions, to reflect with a passion and commitment to achieve what those who struggle selflessly want to achieve and that is the unification of our people" President Ali noted. 
 The President said as Guyana moves forward into an oil economy and unprecedented economic growth, preparations must be made by all to share in the wealth and the development that is expected.
"It is the most pressing issue, for us as a people. We talk a lot these days about the economic bonanza that will come, about the great wealth that will come, about lifting our people from poverty but today I say to you, the greatest in task and challenge for all of us is the unification of our people and this does not rest with the people out there this rest entirely on the shoulder of leaders."  President Ali added. 
Mrs. Janet Jagan was born in Chicago US and grew up there into adulthood. She moved to Guyana after marrying Dr. Cheddi Jagan and together with others, they formed the People's Progressive Party.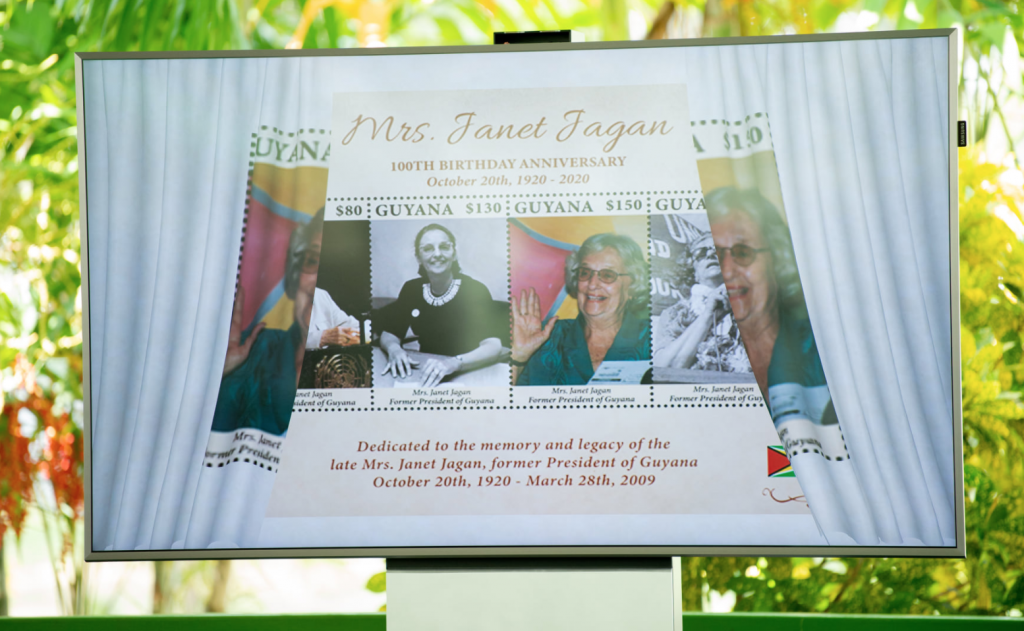 Dr. Cheddi Jagan served as President from 1992 to 1997. Mrs. Jagan became President in 1997 but was forced to leave office in 1999 because of ill health.
She died in 2009 at the age of 89.
"We remember her at this time, for her strong will, her indisputable political organization skills and her dedication to the ordinary man and woman, remember her at this time because she would have been proud that democracy was protected and preserved, time magazine as you have heard held her of one of a great rebel in human history, placing her alongside some of the worlds most not worthy but controversial women, it is no mean fit to be listed in such great company," President Ali said 
The Four commemorative stamps which depict iconic moments in Mrs. Jagan's political life will be available at all post offices from tomorrow.