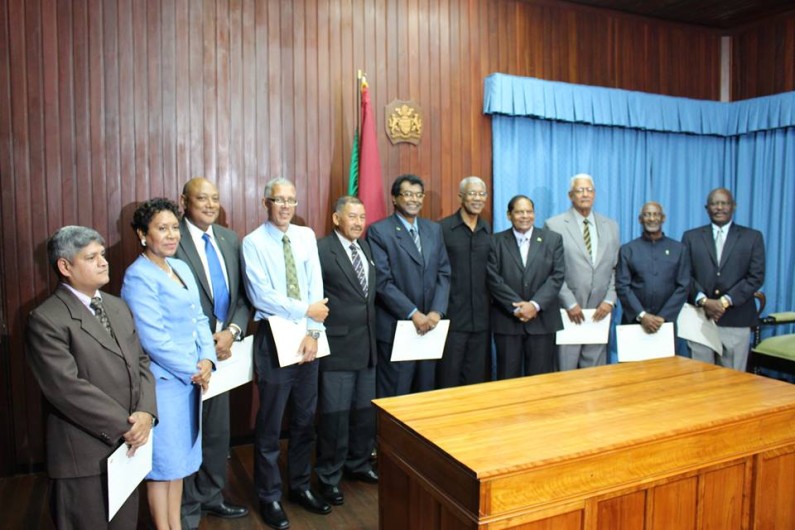 The average age of the members of the David Granger cabinet appears to be 55-years-old. Although 60% of the voting population is between the ages of 18 and 35, the ministers who have been sworn into office all fall outside of that age bracket.
But President David Granger believes the young people of Guyana are adequately represented in his cabinet.
Speaking to reporters on Friday afternoon just after swearing-in his second batch of government ministers, the President said he has a balance of experience in his cabinet.
"You can't fake experience. We need the experience. There are only two persons in the entire cabinet who have had cabinet experience and we need to ensure that persons who have experience in other fields are in positions to lead those ministries", the President explained after asked by News Source whether his "greying cabinet" adequately represents Guyana's youth.
Mr. Granger explained that the reason he has appointed Ministers within in the Ministries is so that they can understudy the senior ministers and be in a position to take over in a few years time.
"What you see now will not be what will exist in a few years from now. We have a lot of young Ministers and a lot of female Ministers too who will be graduating."
The President said he views his new cabinet as one that will provide "an apprenticeship" for younger and other Ministers.
On Friday, the President welcomed into his new cabinet Attorney-at-Law, Khemraj Ramjattan who will now serve as the Minister of Public Security.
The Ministry of Public Security will perform the same functions as the former Ministry of Home Affairs, but with more emphasis on security issues.
Issues related to national registration of births, deaths and marriages as well as citizenship have been shifted to the new Ministry of Citizenship. That Ministry is being led by APNU member and former Commissioner of Police Winston Felix.
The President said he thought it necessary to have a Ministry of Citizenship because of the many slippages that have been found in the country when it comes to national registration and the granting of citizenship to foreigners.
The new government has also created a Ministry of Governance and that Ministry will be headed by former Speaker of the National Assembly, Raphael Trotman. The Governance Ministry will work out of the Ministry of the Presidency which is the President's office.
The Ministry of Agriculture will now be headed by Agriculturist and Business Executive, Noel Holder.
Minister of Finance, Winston Jordan now has Financial Analyst and Economist, Jaipaul Sharma as his junior Minister and longtime politician Keith Scott will serve as a second Minister within the Ministry of Public Infrastructure.
The Ministry of Amerindian Affairs is now the Ministry of Indigenous Peoples Affairs and it is being headed by Sydney Allicock who is a well-respected Indigenous Rights Activist and Toshao who is the holder of A Medal of Service Award and an Anthony Sabga Caribbean Award for Excellence. He is being supported by new Minister within the Ministry of Indigenous Peoples Affairs, Valerie Garrida-Lowe.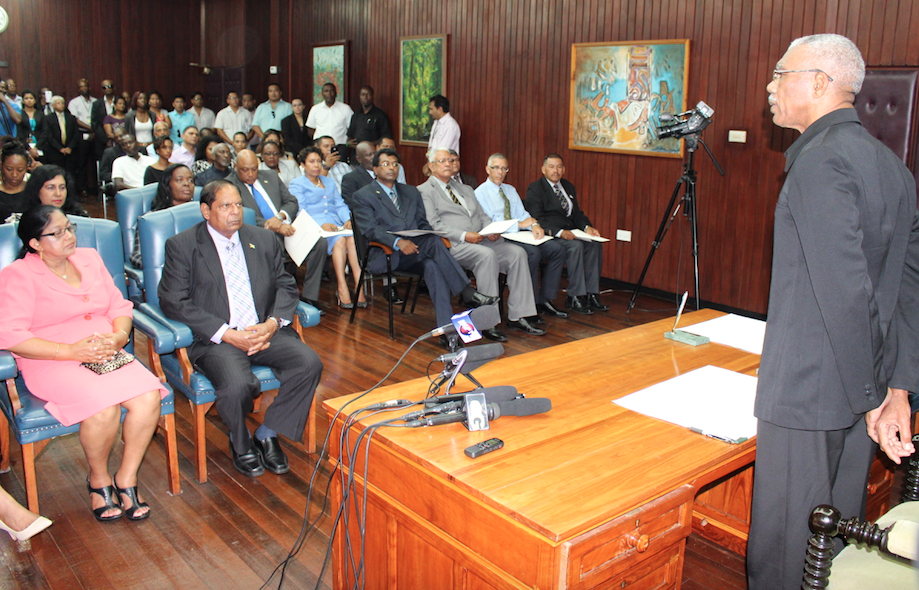 Businessman and longtime member of the Alliance For Change, Dominic Gaskin has been sworn into office as the Minister of Business.
The President announced that he has just one other Minister to swear into office and that will be Educator and Teacher Dawn Hastings who will serve as a Minister within the Ministry of Communities. He is also expected to appoint a third Vice President. Prime Minister Moses Nagamootoo is the First Vice President while Public Security Minister, Khemraj Ramjattan has also been sworn into office as the 2nd Vice President.
The President has described his new cabinet as "muscular" and as one that will be on the side of the people of the country. He said one should not be fooled by the number of Junior Ministers who have been sworn into office since the junior Ministers could all be considered understudies. He said the number of Ministries ought not to exceed fifteen.
"You should not be fooled by the number of Junior Ministers because as I have explained, they are meant to understudy the seniors and in due course, that greyness will be removed and we will have younger Ministers taking the senior positions", President Granger noted.
For Instant Updates LIKE our Facebook Page:  News Source Guyana
Follow us on Twitter @newssourcegy