An elections promise by President David Granger was fulfilled on Wednesday when he initiated the distribution of laptops to student teachers at the Cyril Potter College of Education (CPCE) as part a wider 'One Laptop Per Teacher' Initiative.
The initiative was launched as Guyana joined the rest of the world in celebration of World Teachers Day.
The one laptop per teacher idea was conceptualized by the President over five years ago in the run up to the 2011 elections with Mr. Granger as the APNU Coalition Presidential Candidate.
Mr. Granger reminded the gathering that over the last five years he has been giving teachers laptops to help in the delivery of education but he was happy to be able to give all teachers laptops, now as the President of the country.
In fact, a decision was taken by the Granger government to reshape the One Laptop Per Family initiative that was started by the previous PPP administration into the One Laptop Per Teacher Initiative.
"Guyana cannot be left behind in the education revolution… we must change the way education is delivered in the classroom," the President said.
He believes the initiative asserts the importance of education to the nation and the value of teachers in the delivery of education to students
"Teachers are essential and must lead the students. Students must not be ahead and teachers must not be left behind," he added.
President Granger Committed to ensuring that teachers have greater accesses to information and communication technology.
He said it must become mandatory for every teacher to be schooled in computer science.
In the first phase laptops will be distributed to students and teachers at the Turkeyen and Tain campuses of CPCE and the top performers at the National Grade Six Assessment. A national distribution of laptops to teachers will begin later this year.
Minister of Telecommunication Catherine Hughes joined the activity and said over the last three weeks more than 100 education institutions were connected to the government's fibre optic network.
The move to raise the level of digital literacy allowed teachers at the Tain campus to join in through the government's internet connectivity.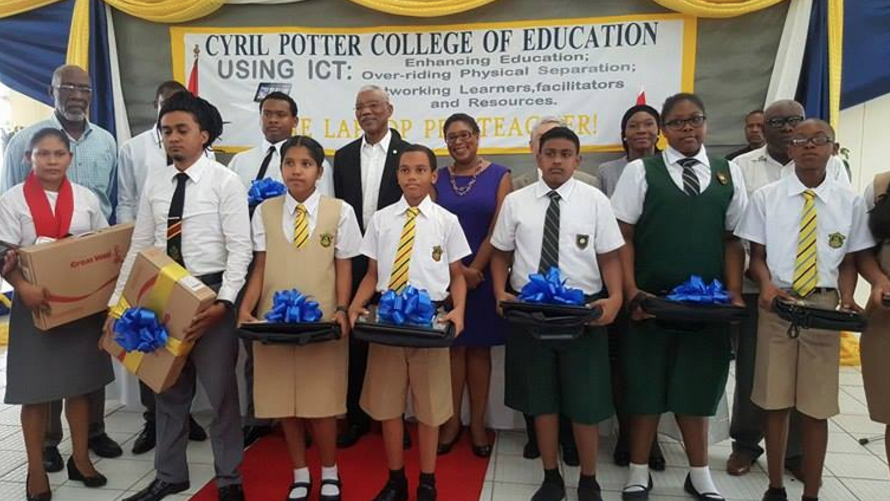 Minister Hughes said the government will also improve internet access in hinterland and interior locations with the hope that the higher level of internet penetration will have positive impact on GDP and improve the overall standard of living.
"We are at the beginning of quite an exciting journey. We have got to catch up and keep up," she added.
The laptops which were procured with the help of the Chinese Government are expected to be used in accessing information, recording and storing files and improve learning resource in the classroom.