President David Granger has once again utilized an international platform to raise the threat neighboring Venezuela is posing to its sovereignty and said it has become a burden that is too much to bear for a country with fewer than one million people to bear.
The Guyanese Head of State was delivering the commencement address at the William J. Perry Center for Hemispheric Defense Studies on this afternoon in Washington, D.C.
He said the challenge which Guyana comes up against is by a larger state and if not resolved promptly, prominently and peacefully could lead to a deterioration of the security situation in the entire Caribbean and the South American continent.
The President who is a former student and Professor at the Center, told those gathered that the Caribbean has been a cockpit where extra region states vicariously struggled for supremacy.
"The region has endured enough conflict over the last 500 years and it is time to enjoy peaceful coexistence. This Center to my mind his mind has as its main purpose the need to preserve peace within and between states in the western hemisphere. The end of cold war brought the notion that democratic governance would not usually go to war with each other," President Granger explained.
He also focused his attention on Guyana and said the situation at home is an example of the vulnerability of small states.
"This threat is not a sudden spat between neighbors, it is not about a minor modification of the border line, it has persisted for 50 years… investors have been intimidated, development has been derailed, projects have been obstructed, it is too much to bear for a country with fewer than one million people," he added.
President Granger noted that the issue at hand is about the principle of peaceful settlement of disputes and avoidance of resort to use of force threat and intimidation along with the inviolability of international agreements.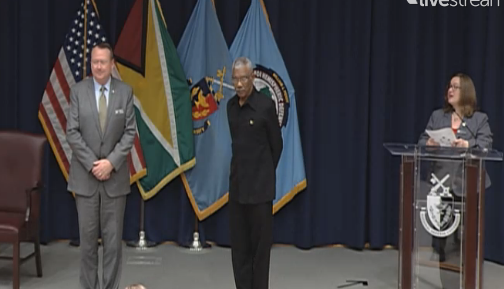 "The small states must choose, in the context of limitations, whether to spend its money on rice or rifles, on guns or butter… we live in age of law and small and large states must co-exist peacefully," he urged.
He said Guyana continues to employ tools of diplomacy and solicit the solidarity of the international community against Venezuela's threat. The President said small and large states must exist peacefully.
The President has been rallying the support of the international community against Venezuela and its latest claims to the Essequibo region and Guyana's territorial waters.
The Commonwealth, CARICOM and the Organisation of American States as well as the British and U.S governments have all criticized Venezuela over its claims.
Watch the President's full address by Clicking HERE