Urging senior members of the business community and other stakeholders not to be misguided by persons he claim want to derail sustainable development in Guyana, President Irfaan Ali on Thursday night said his government is working to build a Guyana that is not only resilient, but one that will enjoy macro-economic stability.
He made the comments during a forum on the Government's 2030 agenda at State House.
"I can say like many others, maybe let's give everybody a million dollars each. First of all, it is nonsensical because we can't afford it even at the highest point of oil revenue but it sounds nice, it sounds great and we have to dismiss these things," President Ali said while adding that "we have to build a future that develops the competitiveness of our country, increase our productivity, deploy more people to the work force, enhance our wages and build national prosperity that reaches the household level and at every level we are addressing this."
With Guyana having one of the fastest growing economies in the world, President Ali anticipates that by 2025 the country will be more self-sufficient.
He said his government is putting the requisite systems in place that would see the advancement of energy and food security as well as climate, ecological, biological, financial, technological, health, manufacturing and agro-processing services as part of its transformational agenda.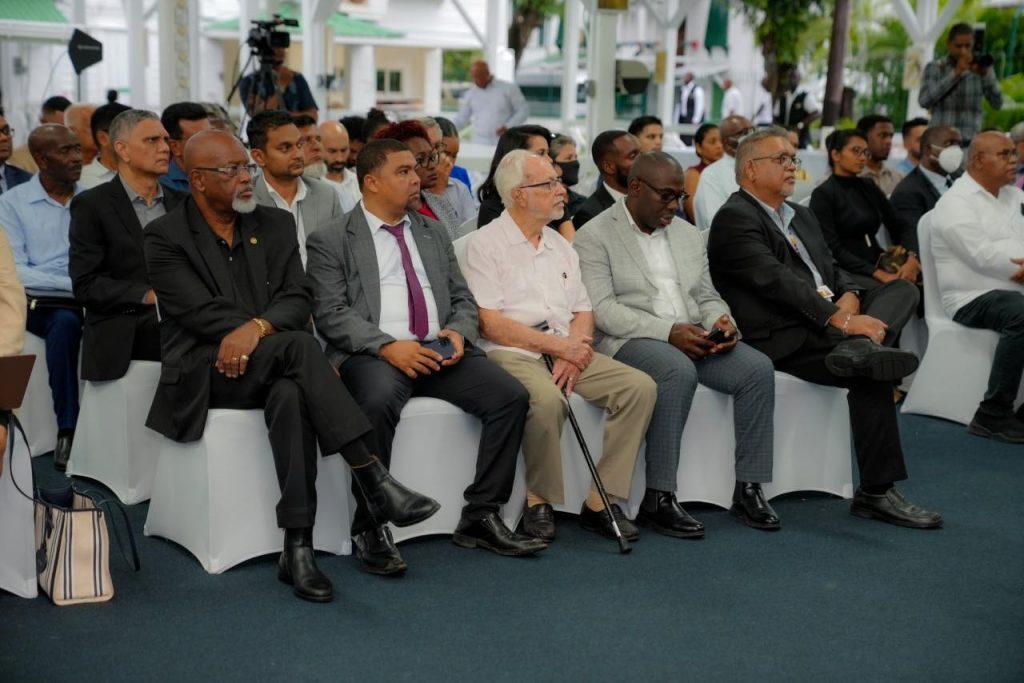 "So a lot of what we are doing now is to ensure that we have the right complement of human resource, with the right skillset to support this objective of the government in positioning the country to be the leading provider of health services and we are not saying this in an idle manner. We are building the infrastructure the infrastructure to support this vision," President Ali assured.
"As I said, we have already embarked on a massive transformational agenda. The building of a new Demerara River Bridge, the building of the new highway going to Diamond. By the end of this month, we will finish the technical work to go to tender… all of that, that work is going on now. The commencement of the new highway along the railway embankment, going all the way to Unity-Lancaster. Then we have the commencement of work on the new highway – the New Amsterdam to Moleson Creek," President Ali further pointed out.
He also spoke of other developments including the construction of a new terminal at the Cheddi Jagan International Airport (CJIA), a four-lane bridge across the Demerara River in Linden, farm-to-market access roads, and the Amelia Falls Hydropower Project.
President Ali told the stakeholders that Budget 2023 has to be more than tax incentives, as he underscored the need for there to be a more holistic approach.