Two years after the President of Ghana paid an official state visit to Guyana under the former government, Guyana and Ghana continue to work together to build and strengthen relations between the two countries.
President Irfaan Ali met today with Ghanian President Nana Addo Dankwa Akufo-Addo on the sidelines of the United Nations General Assembly in New York.
Vice President Bharrat Jagdeo will lead a Guyanese delegation to Ghana in October in a bid to further enhance cooperation between Guyana and Ghana.
During their bilateral discussions today in New York, the Office fo the President said the two leaders discussed several matters of mutual interests, including oil and gas, climate change and the environment, capacity building, and training.
Both leaders agreed that today's meeting would enhance greater collaboration in addressing matters of common interests at the global level.  
During his visit to Guyana in 2019, several agreements were signed between Guyana and Ghana.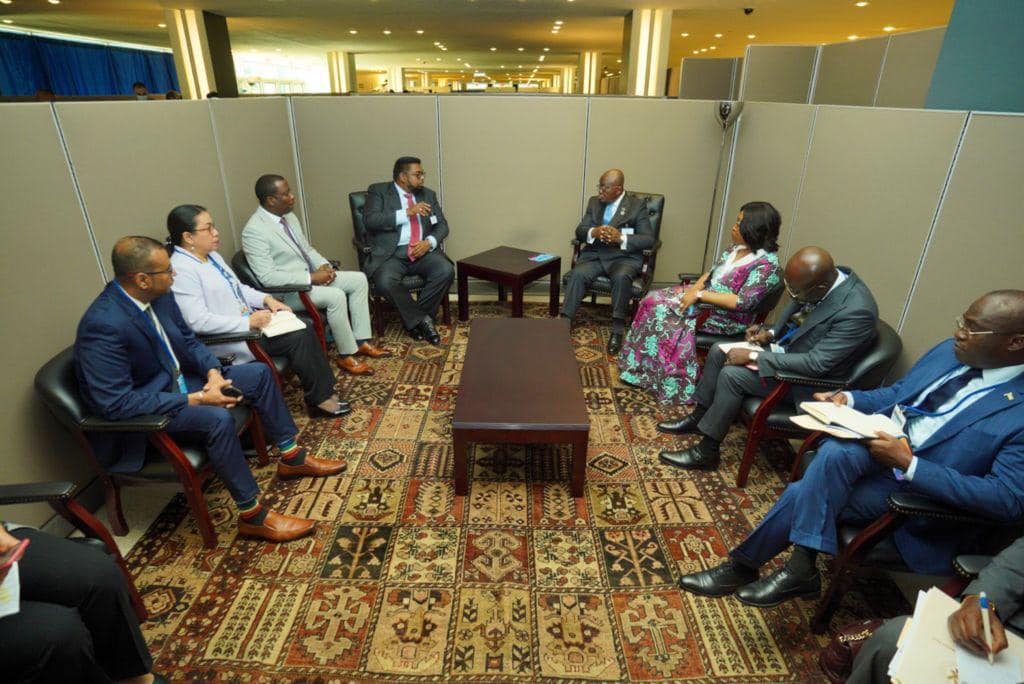 President Ali was accompanied by the Minister of Foreign Affairs and International Cooperation, Hugh Todd, Ambassador and Permanent Representative to the United Nations, Carolyn Rodrigues-Birkett, and Foreign Secretary, Robert Persaud.
President Ali has been meeting with a number of world leaders while attending the UN General Assembly.