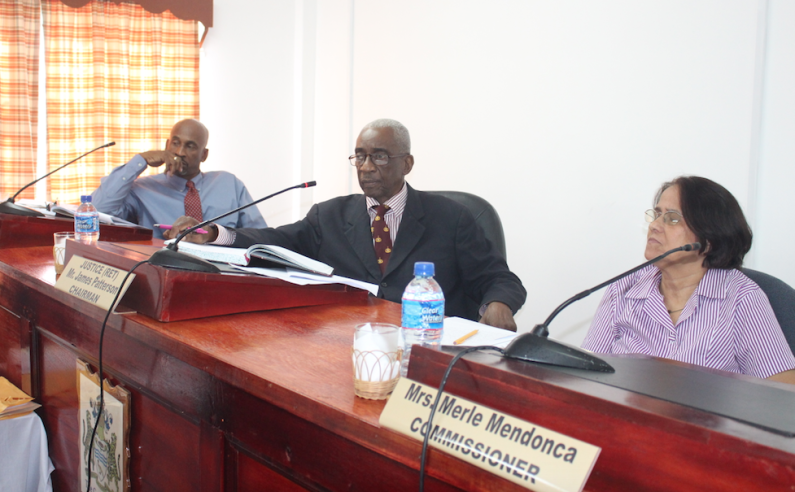 The Commission of Inquiry (COI) into the fiery deaths of 17 Camp Street Prison inmates wrapped up its public hearings on Monday.
The conclusion of hearings saw only one Attorney making an oral submission while Social Activist Mark Benschop staged a one man protest outside.
None of the Attorneys representing the inmates were present at Monday's sitting and the Attorney for the joint services, Selwyn Pieters was allowed to make his oral submission along with a written one.
He told the Commission that it is time for the government to pump money into building bigger facility for prisoners.
Pieters said he was appalled with the conditions under which inmates are housed at both the Camp Street and Mazaruni Prisons. He also criticized the sloth at which work is progressing on a new building inside the Camp Street Prison.
Mr. Pieters said the Camp Street staff faced several challenges including; the high number of high-profile inmates, its location in the Capital City, inadequate staff to inmate ratio, prisoners being denied bail and buildings being built out of wood. Pieters said prison staff had also asked him to lobby for increases in their salaries and allowances.
He also attempted to throw cold water on the testimony of several inmates as he insisted that the fire was started by the inmates. He believes several prisoners lied when they claimed that Deputy Director of Prisons Gladwin Samuels was there and gave orders to lock the prisoners inside the cell where the fire was lit.
The Attorney told the Commission that the Police and Fire officers did their best with the resources available to them. He wants the Commission to consider recommendations that were submitted to the then PPP government following the 2012 jail break.
The Commission is expected to hand over the report to the government on or before May 31 2016. (by Kurt Campbell)