At least 12 persons have been left homeless following a mid afternoon fire on Saturday that completely gutted two houses in Quamina Street, Georgetown and badly damaged a third house.
The fire service was summoned just before 3 o clock as persons in the area noticed heavy smoke and fire bellowing from one of the buildings. The fire quickly ripped through the wooden buildings as persons who were home at the time dashed for their safety. A young baby was pulled from one of the buildings as the fire approached. There were no injuries.
One of the women who lived in the house that was second to go up in flames broke down in tears as she said she was unable to save anything. She said she was in the kitchen of her house at the time when she heard someone calling out for her.
The woman, Vanessa Collymore said when she decided to peak outside to see who was calling, it was then that she noticed the house next door ablaze and she dropped everything and ran out of the house for her safety.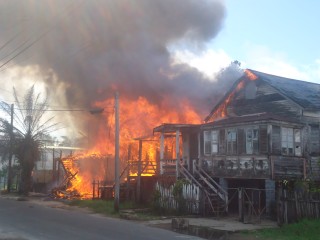 She said she could not understand what may have started the blaze since no one was in the house at the time where the fire started. Ms. Collymore said she lost everything in the fire but she is thankful for life.
When the firemen arrived on the scene, the fire had already completely gutted one house and had taken over the second one. Residents of the area and other persons rushed to the aid of the fire service and assisted the firemen with their equipment.
When the fire started to rip through the third house, a young man who was in the area ran into the yard to save two dogs that were chained under the house. He was able to take both dogs to safety. The fire service with the assistance of several persons were able to break into the third house and save a number of pieces of equipment and electrical appliances.
A few years ago a house in the same area located just next door was completely gutted by a suspected fire bomb. The property was in dispute and the subject of court proceedings. The land where that house once stood is now a car park being used by the Guyana Revenue Authority