A major Fire was averted this morning at the Fogarty's Shopping Complex in Water Street as Firemen responded promptly to an emergency call and were able to put out a blaze in a section of the building.
There are several businesses housed in the Fogarty's building in addition to the Fogarty's store and Laparkan offices.
The Fire appears to have been ignited in a ceiling fan in the restaurant located in the building.
The Guyana Fire Service received its first report of the fire just after 9 o' clock and rushed down to busy Water Street area.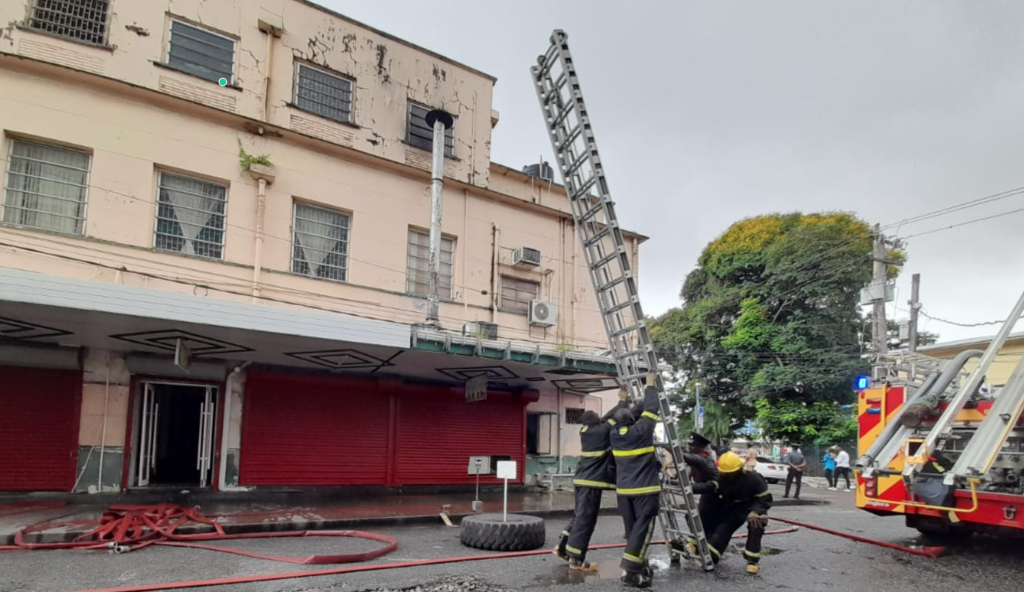 The Fire Service responded with several fire engines as well as one of its fireboats which remained on standby in the nearby Demerara River.
Within an hour, the Fire Service was able to contain the small blaze to the one area in the building as some tenants and nearby businesses kept a close eye.
Fire Chief Marlon Gentle said it was necessary to have a robust response in the area since it is a high-risk area because of the number of businesses and buildings.
"This area is one of the high-risk areas in the City of Georgetown,  that we have known and we must always have a very robust fire response whenever a call is made regardless of what the situation may be. We have done so and we were able to mitigate what could have been a more frightening situation at the Fogarty's building….. This area that we are standing on had one of the most devasting fires in Georgetown in 1945, where this entire ward was wiped out. So, I'm glad that we do not have a repeat of the same situation" Mr. Gentle said.
The Fire Chief said the downtown Water Street area remains one of the most congested areas in the city and therefore will always be on the radar of the Fire Service.
A full investigation into this morning's blaze is underway. A few businesses suffered some water damage.