For a second consecutive time, Regional Executive Officer of Region Five, Ovid Morrison and other regional officials were sent away when they appeared before the Public Accounts Committee today.
The PAC is tasked with reviewing the expenditure of public funds.
The decision to send away the regional team was taken after a brief meeting among all PAC members with Ali declaring "I am of the view that you have not made any attempt to correct your ways or prepare for us."
The decision came after the Regional Executive Officer failed to provide PAC with an acceptable explanation for millions in excess drugs, which he said was sent to the Region by the Ministry of Public Health and utilized fully.
Despite attempts to offer an explanation, the Chair said the PAC remains dissatisfied with the responses and the performance of the REO.
"No attempt was made to provide answers or information. On this note we will not be able to continue with region five until the Finance Secretary updates us on the way forward. We are currently asking region five to leave at this moment."
Morrison who could not provide information on the last occasion regarding the listing of drugs received by the region and the costing, told the PAC on Monday that back in 2016 the Region had requested $135 million in drugs and received $154 million instead.
The issue arose when the REO could not explain how the region received more drugs than it warranted.
In turn, he told Committee Member Juan Edghill, who was chairing at the time, "I think the Ministry of Health can best answer that question… it may be possible to enquire as I said before the Ministry of Public Health will be the body to say why the extra was sent."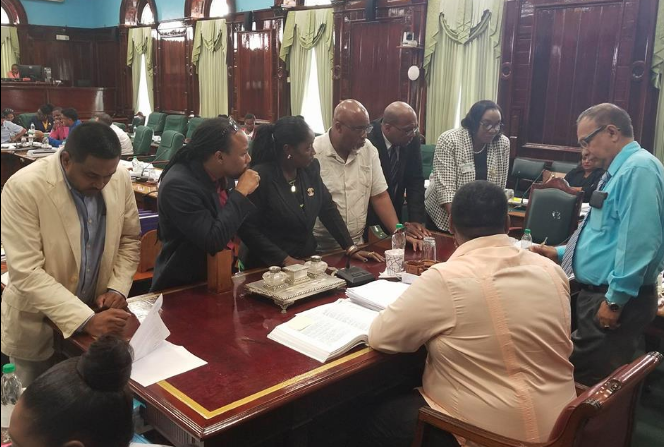 But Edghill was taking the REO's answer as is and continued to press the issue and calling for a full investigation.
"Its either the Region doesn't know what it is doing or isn't disclosing fully," Eghill said as he reminded the REO that he is responsible for explaining not only shortages but also excesses.
The Regional Health Officer assumed that it could be that the prices were inflated but the Health Ministry may be called upon to explain this further.
Outside the Chamber, Morrison told the media that he supplied all documents in relation to the request and acquisition of drugs to the Committee, although he did not state when.
"I have respect for the PAC and I will not comment unless I am sure that the right information was filtered to the PAC… Its rather strange that I submitted the list for all the drugs and these questions were still asked."
That explanation was not given while Morrison appeared before the PAC.