As a result of 10 accidents, 13 persons have lost their lives on Guyana's roadways so far for 2017. The figure is worrying since for the same period last year, there were 13 accidents that resulted in the death of 13 persons. 
The Guyana National Road Safety Council, in partnership with the Guyana Police Force and the West Demerara Road Safety Association is increasing the Road Safety Education Public Awareness initiative.
November, is designated Road Safety Awareness Month and most awareness activities are usually centered around that time, however, with the collaborative Road Safety Education Public Awareness initiative throughout the year there will be activities across the country.
Coordinator of the GNRSC, Ramona Doorgen explained that during the last Road Safety Month observance, there was a marked decrease in the number of road fatalities.

The reduction, she attributed to awareness initiatives and several joint campaign activities, however, she believes if those activities are conducted from the commencement of the year instead of November only, there will be positive results.
The GNRSC is trying to encourage road users to understand the importance of adhering to the rules that govern the use of the roads.
"As human beings we always have to be reminded, nobody is perfect, we all make mistakes, and so as human beings we think education or re-education is very important. Sometimes, they crisis in our lives make us forget there are rules that we should follow and this is what the Road Safety Council, the Guyana Police Force Traffic department and the West Demerara Road Safety Association is here to do…."
Meanwhile, a National Action Plan on Road Safety is expected to be launched on March 1. The Council has a strategy and from that strategy all that needs to be to enhance road safety awareness will be incorporated into the plan. The plan will encompass a number of Government Ministries and agencies.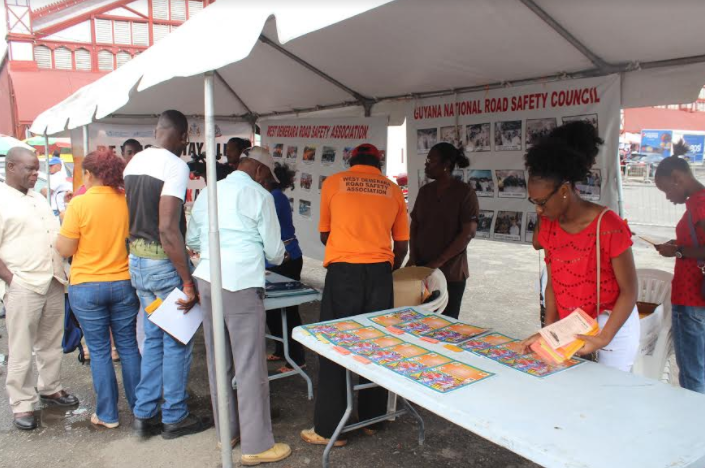 Last November, the Guyana Police Force's traffic department in Georgetown took several persons into custody in a single night for driving above the prescribed alcohol limit during a collaborative "White Knight" campaign.
Police ranks were administering random breathalyser tests on drivers while the GNRSC members and other stakeholders distributed magazines, pamphlets and encouraged drivers to be safe on the roadways.    (Handel Duncan)