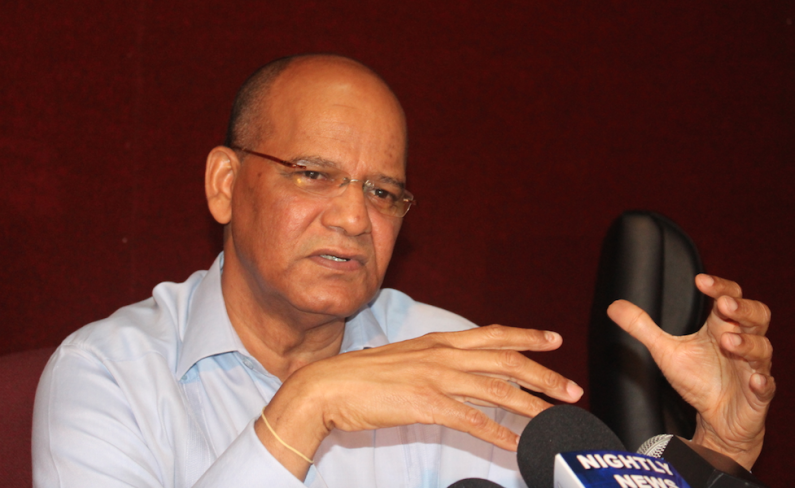 The General Secretary of the People's Progressive Party, Clement Rohee today further distanced his party from self-confessed member of the former death squad, Sean Hinds.
At his regular morning press briefing, Mr. Rohee admitted that he did see Sean Hinds in the PPP headquarters building last week but did not pay him much attention.
He said when he enquired from the man why he was there, Hinds told him that he was there to see someone. Rohee said he responded with an "Oh" and walked off.
"I saw him here sitting, and he claimed he was waiting to see someone. I never asked him who was the someone. I just left and went away", Rohee admitted.
When asked whether he would not be concerned that the party is being linked to a man who has in the past been charged in connection with a number of high-profile criminal cases, Rohee reminded that a man is "innocent until proven guilty", but he reiterated that there is no relationship between the PPP and Sean Hinds.
Last week, Sean Hinds admitted on national television that he was part of a death squad that hunted and gunned down suspected criminals during the crime spree of 2002/2003, when the PPP was still in office.
He claimed that last week he was forced to seek refuge at the PPP headquarters after noticing a heavily tinted vehicle outside his house. Hinds said he believe the Police want to question him about the murder of political activist, Courtney Crum-Ewing. He said he will not take the blame for that murder and he believes that two activists close to the PPP financed the man's execution.
Today Rohee said as far as he knows, the PPP never had any security arrangement with Sean Hinds and he was never part of the security apparatus of the party.  During the last elections, Sean Hinds was spotted at all of PPP's major rallies and he also served as the personal bodyguard for former Town Clerk Carol Sooba.
Hinds is currently wanted by the police for questioning into a "serious offense". Over the weekend, Prime Minister Moses Nagamootoo reported that a report was made to the police two weeks ago after Sean Hinds was spotted doing a "stake out" close to his private residence.
Sean Hinds has since denied ever being near to Prime Minister Nagamootoo's house.