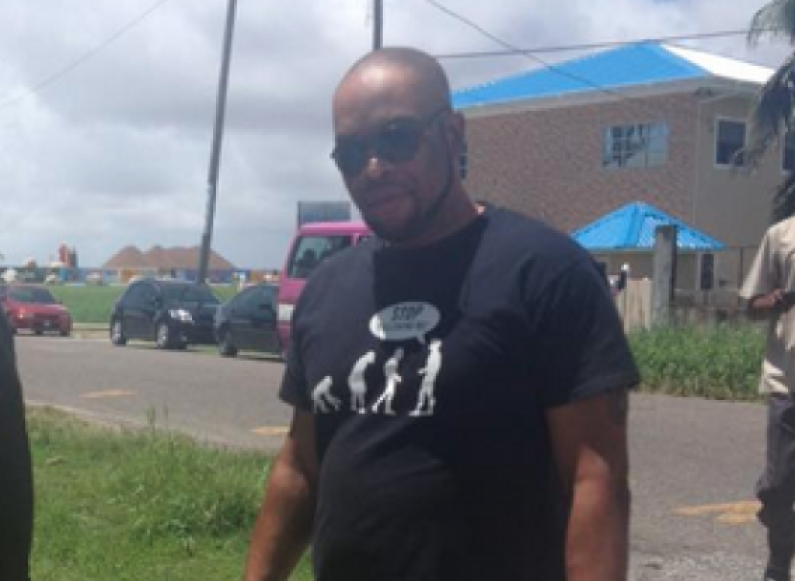 After turning himself into local law enforcement, self-confessed member of the former death squad, Sean Hinds is not cooperating with the police and has taken a decision not to answer any questions being posed to him by  investigators.
Just after 12 noon on Monday, the former murder accused turned himself into police in the company of his high-powered attorney, Nigel Hughes.
Last week, Hinds admitted  and confessed on national tv that he was a member of the death squad that was responsible for the murder of over 200 young Guyanese men who were suspected to be criminals during the crime spree of 2002/2003.
He was taken in for questioning just after he surrendered at the Eve Leary Headquarters of the Criminal Investigations Department this midday. However, this evening, the Guyana Police Force is saying that the confessed killer is not answering any questions.
In a statement, the Police Force said "so far he is not cooperating with the police as a number of questions have been put to him in the presence of his Lawyer and his consistent response has been that he has nothing to say, based on advice of his Lawyer."
Crime Chief Wendell Blanhum today told News Source that the Guyana Police Force wants to question Hinds about a "serious offense" and also about his recent statements about the death squad and the role he played.
News Source understands that Hinds' decision not to answer any of the questions being posed to him by the police may be a move to set the scene for some sort of negotiation about amnesty or a plea deal.
The Minister of Public Security has already indicated that there will be no amnesty for Hinds who admitted that he was part of a squad that murdered Guyanese.  Minister Khemraj Ramjattan made it clear today that while there is interest in what Hinds has to say, he should not expect a "free lunch".