Local airline, Roraima Airways has been granted the Approved Maintenance Organization certificate, paving the way for the company's new maintenance department at Ogle to conduct its own aircraft maintenance and provide the same services to other operators.
Director General (ag) of the Civil Aviation Authority,  Chaitrani Heeralall, congratulated Roraima on the achievement and said it shows growth in the aviation community in Guyana. She further stated that with this new development, the aviation sector has changed for the good and development of the country.
 During the presentation of the certificate,  Krishnanand Ramlachana who is the Air worthiness Inspector attached to the Civil Aviation Authority, explained that the role of the organization is to provide maintenance to optimal standards.
He further stressed the importance of Roraima's new Maintenance Division to maintain the same level of safety and performance that was demonstrated during the evaluation period to acquire AMO level.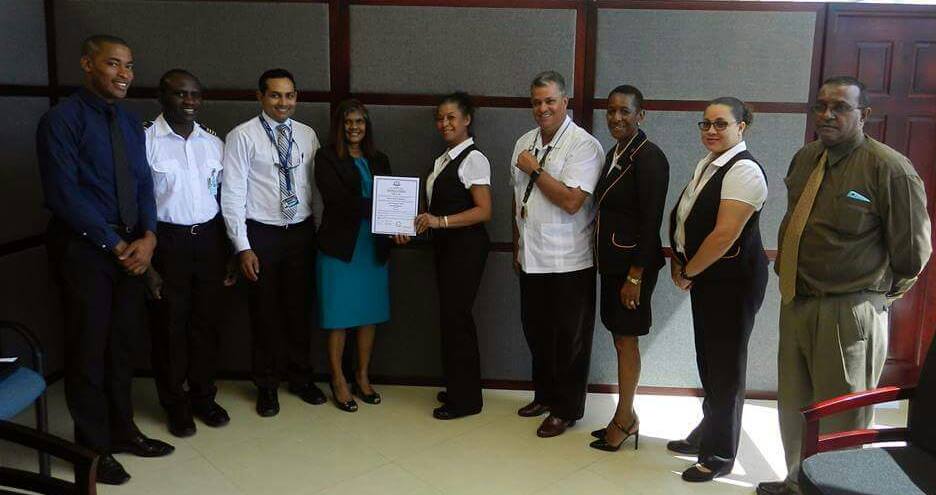 Roraima's Chief Executive Officer, Captain Gerry Gouveia, expressed his gratitude to the GCAA for its due diligence in ensuring that Roraima met the standards and requirements. He also reiterated his commitment to the empowering of his maintenance personnel to act and conduct their maintenance as is required under the AMO specifications.
In the past, Roraima Airways out sourced its aircraft maintenance, however, with its new maintenance division being certified with the AMO certificate, out sourcing will no longer continue.