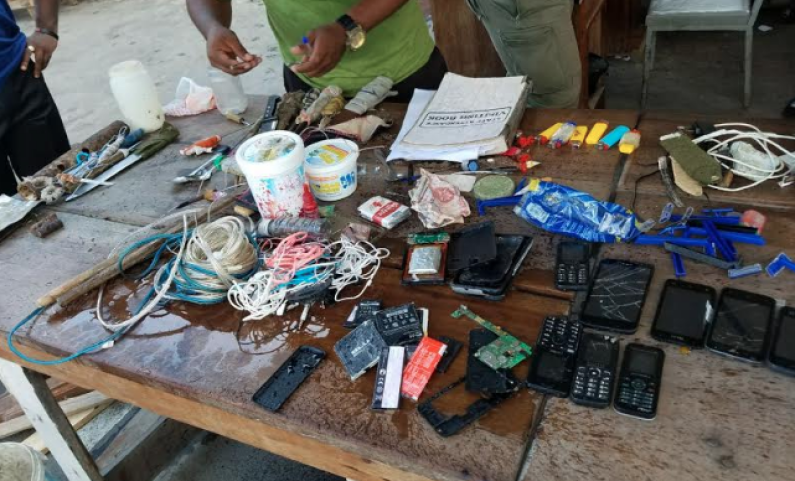 Even as the Prison Service tries to clamp down more on the  smuggling of illegal items into the jailhouses, it appears as though those efforts might not be enough.
The Police Force today announced that during a three-hour search operation by the Joint Services on Monday at the Lusignan Prison, several prohibited items were found.
The lawmen uncovered eight (8) cellphones, ten (10) cellphone batteries, five (5) cell phone chargers, two (2) Sim cards, two (2) memory cards, thirty-one (31) improvised weapons, eleven (11) pieces of metal pipes, seven phone cards and a quantity marijuana seeds and other illegal items.
Just last week, prison security thwarted an attempt to smuggle illegal items into the jail when they noticed a man in the bushes close to the Lusignan jail and fired a warning shot.
The man escaped but drop his bag during his dash.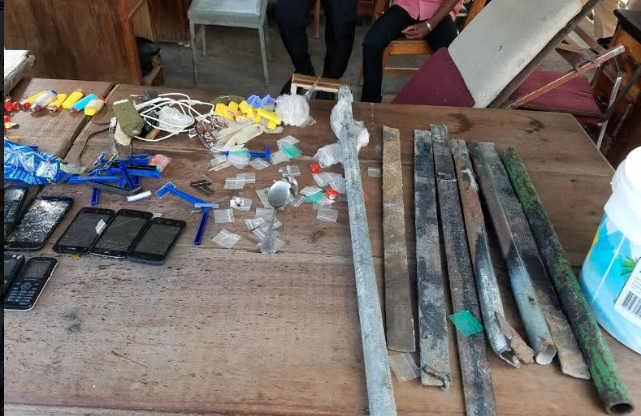 During a search of the bag he left behind, security found 140 packets of cigarettes, 4 cellular phones, 11 lighters, 1 power pack, 1 ear piece along with a phone charger, 15 packets of small-sized zip lock bags and and one thousand seven hundred and ninety-four (1,794) grams of marijuana.
The Prison Director has been warning prison officers of the dangers of colluding with prisoners to get illegal items inside the jail house.