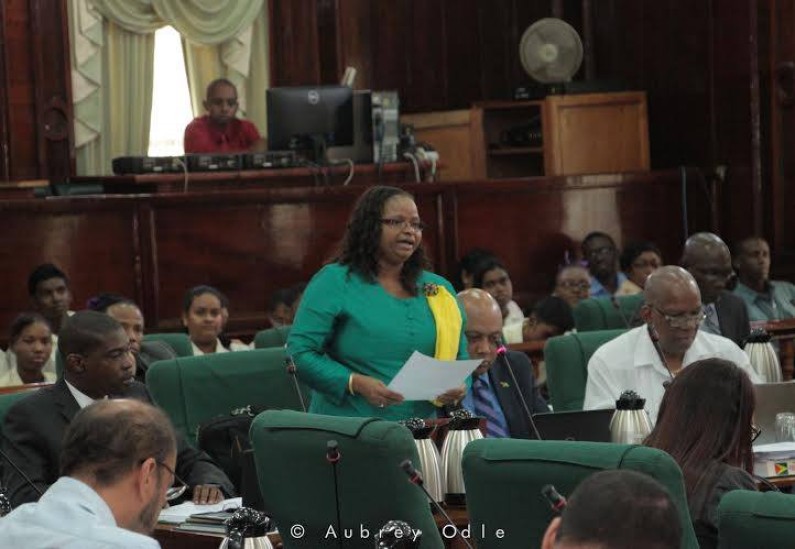 Social Protection Minister Volda Lawrence is promising to step up the fight against the pervasive problem of Trafficking in Person (TIP) in Guyana over the next year.
Ms. Lawrence's assurances came as she delivered her presentation during the budget debates in the National Assembly on Wednesday.
The Minister said she is happy that for the first time in Guyana there  was a conviction in a TIP case, where restitution was ordered for the victim.
She said what is still disturbing is the fact that women continue to dominate the suspects in TIP cases brought before the court with females accounting for more than 90% of victims.
Providing more disturbing statistics, Lawrence said children account for more than 30% of victims in 2015 year and said research has shown that sex is the major driver in Human Trafficking in Guyana.
"Most victims are forced into carnal economics," she added. Currently there are four ongoing TIP matters in the Court and the Minister is hopeful that convictions will be secured for these matters.
"We must rid this nation of this despicable man-made cancer," she added.
Among plans to tackle the scourge is the resuscitation of the TIP Unit in 2016 and its subsequent transformation to a department within the Ministry of Social Protection.
There is already a room named TIP within the ministry where TIP issues are addressed.
"We are serious about TIP in Guyana and we will spare no effort to ensure the eradication of this man-made threat and punishment for all perpetrators including females and males," the Minister lamented.
The annual U.S Department of State report on human trafficking continues to press the Guyana government to do more to tackle problem.
The report pointed out that a large number of these cases occur in the mining and hinterland areas, while also noting the lack of prosecution of suspects over the years.
Minister Lawrence said the coalition government will not continue on what was "a broken system" and insisted that tough action against Human Trafficking is forthcoming.  (Kurt Campbell reporting)