The construction of the controversial specialty hospital has been placed on hold yet again, the government announced on Friday.
State Minister Joseph Harmon said the government moved to halt the project, for a second time, after the Government of Indian indicated that it could not provide the funds for works to be executed by the contracting firm – Fedders Lloyd.
Harmon said the coalition government received a note from the Indian High Commission earlier this month in which it identified Fedders Lloyd's ineligibility to continue the project.
The firm has reportedly been disbarred by the World Bank from projects until 2020 due to its procurement policies.
The APNU+AFC government had been harshly criticized and several concerns were raised when it awarded the project to Fedders Lloyd without going to tender.
This rejection by the Indian Government means that the project will have to go through a fresh tendering process to select another Indian contractor.
"We have decided to put the Specialty Hospital on hold pending the completion of fresh tendering process to select an Indian contracting firm," Harmon said.
He also pointed out that such a process is likely to take several months to be completed. The Minister said while this is being undertaken, the loan sum is likely to be eroded by inflation, interest and fees. As such the Ministers of Foreign Affairs, Finance and Public Health have been asked by Cabinet to engage the Indian Government on the issue after which a definitive decision will be made.
The previous People's Progressive Party administration had initiated the US$18 million project using a line of credit by the Government of Indian through the Exim Bank of Indian.
It was initially awarded to Surendra Engineering but that company was later taken to Court by the PPP government and the project was halted.
When the APNU+AFC government took office in May 2015, it decided to use the funds in the project on primary health care and identified the West Demerara Regional Hospital, the Suddie Hospital and the Bartica Hospital as the beneficiaries. Assurances were secured from the Indian Government to fund the upgrade of these hospitals as well as Specialty hospital.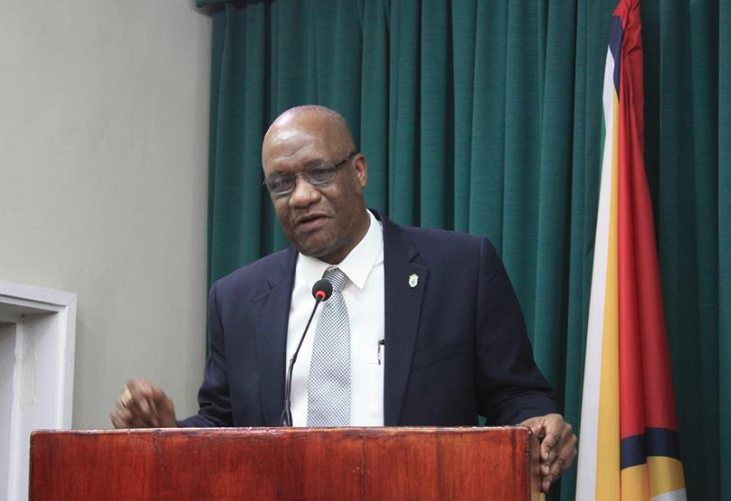 That led the government to grant the project to Fedders Lloyd without going to tender. The government had been criticized when it failed to have the project tendered a second time.
"In terms of Fedders Lloyd I think the Minister of Finance has given an expansive explanation why we went that way," Harmon said as he attempted to remove fault from the government.
He said the Indian Government was satisfied with the process the government engaged in when it selected Fedders Lloyd but was only concerns with the World Bank's position. The contract requires an Indian company to construct the hospital.