In the aftermath of last evening's devastating fire which completely gutted the Sharon's Mall building on King Street, the Home Affairs Ministry is reminding building owners of the need and the importance of having sprinklers and other fire prevention equipment installed at their buildings especially high-rise buildings.
In a statement, the Home Affairs Ministry also said there is the need for Riser Mains with hoses and Fire Sprinkler Systems to be installed in new and tall buildings.
The Ministry said building inspections for electrical and fire safety compliance are mandatory for such buildings and must be diligently pursued.
At the scene of the fire this morning, the business owners and attorneys who lost their goods and belongings in the fire, revisited the scene. Many of them were in disbelief as they gazed at the ashes and what use to be the Sharon's building.
Hundreds of millions of dollars in equipment and goods went up in flames yesterday as fire gutted the building.
When the Fire Service responded, there was only smoke emanating from the building but within two hours, large flames busted out of the building, quickly engulfing all four floors.
The firemen tackled the blaze from several areas surrounding the building, but there was very little they could do to save the building as the fire gushed through the entire building.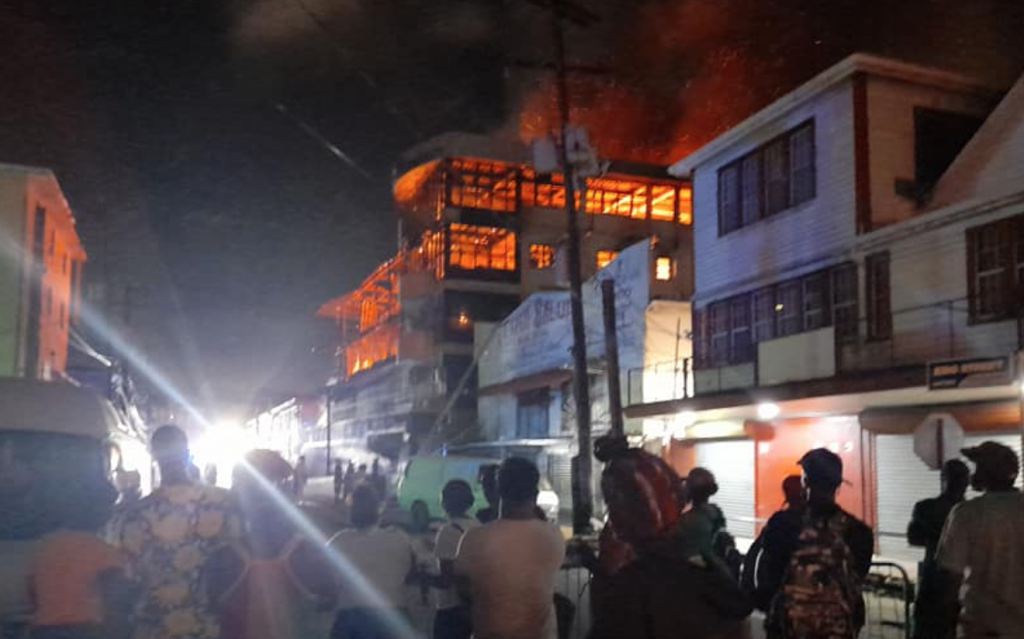 The fire shattered the glass exterior of the building and sent flames high into the sky with burning pieces sailing across to the street below and in the compound of the nearby High Court and other buildings.
Home Affairs Minister Robeson Benn who was at the scene for more than two hours said it appeared as though the strength of the fire might have been underestimated initially.
He said the fire appeared to have been moving along in some parts of the inside of the building while the firemen were focused on other parts.
The Guyana Fire Service has not determined the cause of the fire, but it is suspected that it might have been electrical in origin since there were earlier reports of a burning scent in the building from around mid-afternoon.