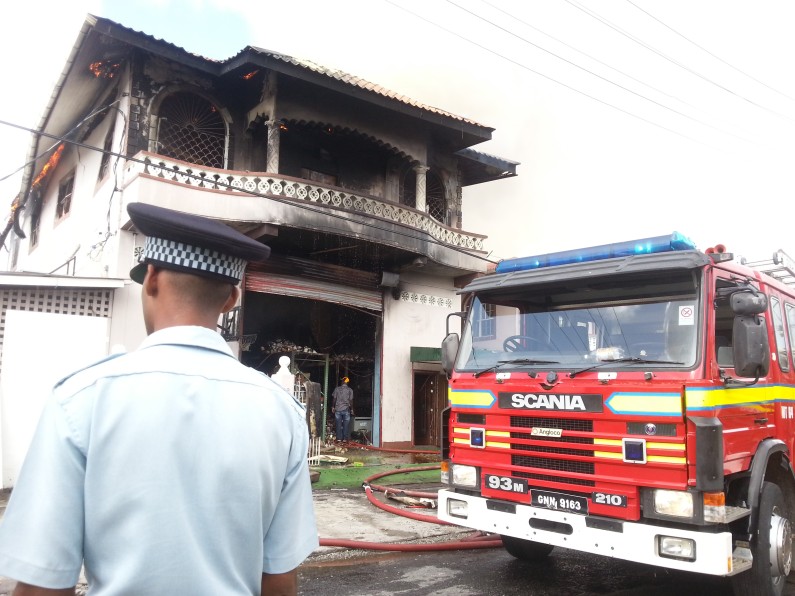 The Guyana Fire Service rushed to the scene of a Campbellville fire early Sunday morning as residents in the area reported that they had heard explosions coming from inside of the building.
When firemen arrived at the scene the heavily grilled concrete building on Duncan Street Campbellville was engulfed in flames.
Though the firemen faced some difficulties locating water sources in the area, they managed to quickly bring the fire under control and contain it to the one building.
Some residents came out of their homes and assisted the fire fighters as the firemen turned to nearby drains as a source for water to douse the blaze. The interior of the building was quickly destroyed as the fire wrapped itself around the two storey storage facility.
The Building belongs to the Bacchus Family who owns a supermarket and hardware store in Georgetown at the MFK Building on Hadfield Street. Last year there was also a mysterious fire at that MFK Building.
Fire Chief Marlon Gentle said his firemen worked efficiently and were able to save nearby buildings.
The Fire Chief noted that the investigation will cover all angles since they were concerned about the reports from residents that an explosion was heard in the building just before they noticed heavy smoke. He said it was too early to determine a cause but promised that the investigation will be thorough.