Social media talk show host, Gavin Matthews, was arrested by the Police this morning on accusations that he committed a cyber crime by using his talk show to cause emotional distress and humiliation to Minister of Youth, Sport and Culture Charles Ramson Jr.
Matthews was arrested this morning at the Square of the Revolution while he was covering and participating in a small anti-government protest.
He was streaming the protest live on social media for his "Gavin Matthews Talk Show" when the arrest was made.
In the live video, a group of Police Officers could be seen coming out of two vehicles and surrounding Matthews to arrest and inform him of the allegations leveled against him by the Government Minister.
According to the Police Officer making the arrest, "it is alleged that on the 25th March 2021 at Georgetown, you used a computer system to publish a video on Facebook that is derogatory with intent to humiliate and embarrass and to cause emotional distress to Charles Ramson".
The Police Officer informed Matthews that he was under arrest and will be taken to the Brickdam Police station to face questioning about the allegations made against him.
Matthews video recorded all of the Police Officers who were on the scene to arrest him, explaining that he was doing so "in case anything happens to me, this is the evidence".
He kept his Facebook live video going as he was driven to the Brickdam Police station. Matthews questioned the Officers in the vehicle about the allegations made against him. He was told that a Police Investigator from the Criminal Investigations Department would be questioning him about the allegations made by the Government Minister.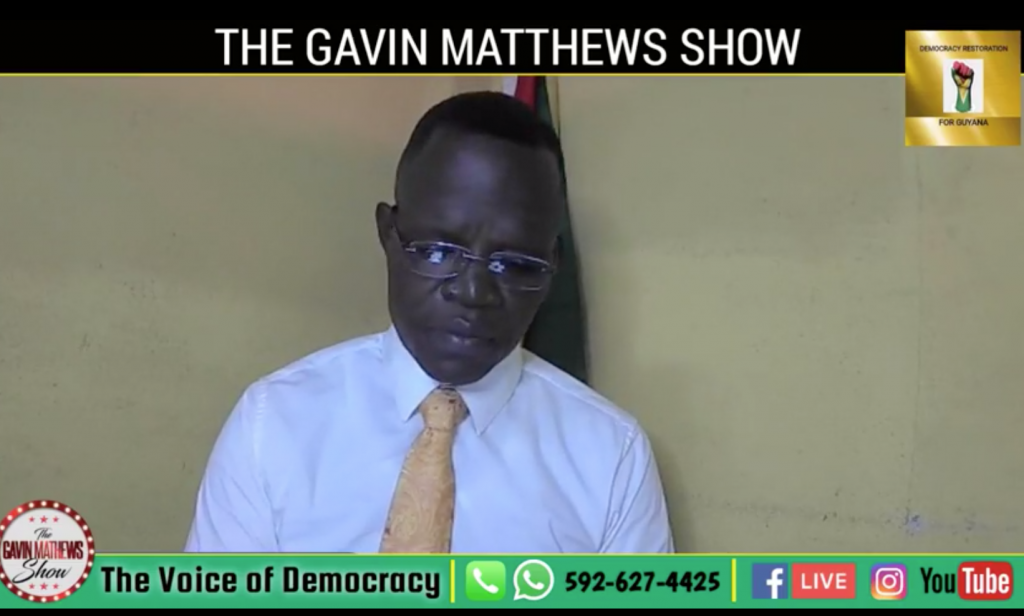 "Charles Ramson Jr. and I are not friends. I don't know him but he is a defacto Minister in the defacto government and they got to come good, better than that, and this is part of shutting me up", he said.
At the Brickdam station, Matthews was taken to a department for questioning and asked to shut off his Facebook livestream.
It is unclear what statements were made by Matthews during his online talk show that allegedly cause emotional distress and humiliation to the Government Minister.
Matthews is an outspoken critic of the Government who has used his social media programme to openly criticize various members of the PPP Civic administration.