A large group of sugar workers from the Albion, Blairmont and Uitvlugt estates picketed the President's office this morning, demanding that he gets Guysuco to increase their salaries.
Armed with placards carrying slogans about the cost of living and the need for a salary increase, the workers and their union representatives said they want the President to act.
The Guyana Agricultural and General Workers Union has been contending that sugar workers remain the only group of workers under the state apparatus who have not seen an increase in their salaries.
While the Guyana Sugar Corporation is a state company, it is managed by a Board of Directors and the Government has been pointing to that Board for the workers to take their grievances.
In a statement after the protest, GAWU said that though there are several credible and rational bases for the Granger Government to assist the workers, "the APNU+AFC has turned their backs and closed their eyes and ears to the cries and calls of the nation's sugar workers".
The union said the workers cannot comprehend why their cries are not being taken seriously by the Government.
Today's protest came in the middle of the election campaign season. The state of Guyana's sugar industry has found itself being featured prominently at rallies across the country by the governing coalition and the opposition, People's Progressive Party.
At a recent rally in Albion Berbice, PPP Presidential Candidate Irfaan Ali promised to return the jobs to Berbice that were lost when the current government started to scale down the local sugar industry.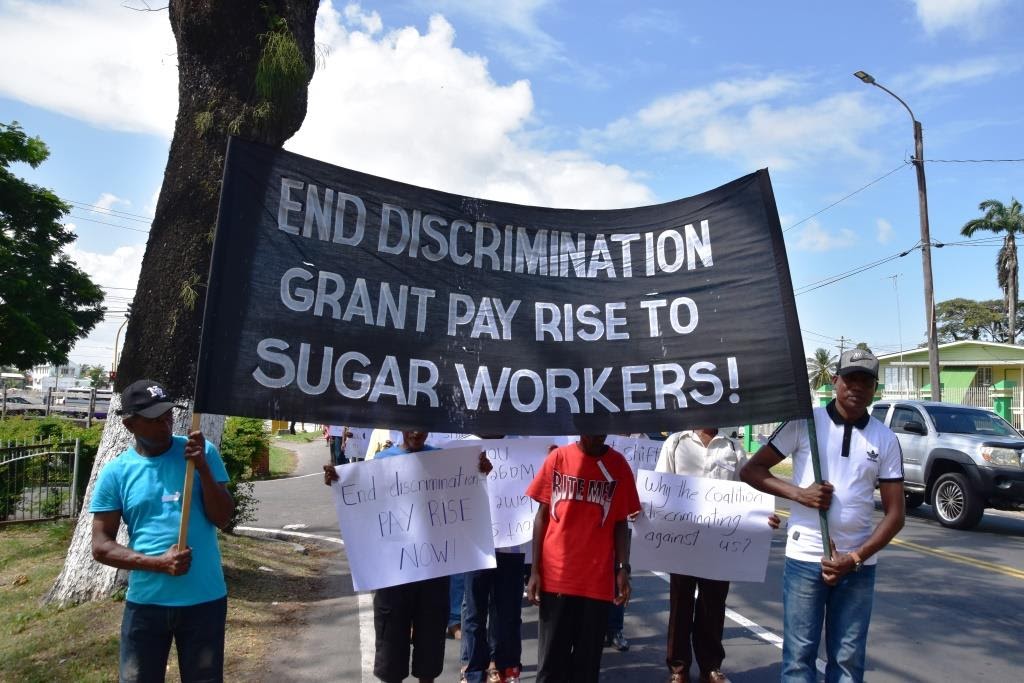 "This government placed you and many other Guyanese on the breadline. They placed your families into hardship and they created disaster for many families especially here in Region Six", Ali told his supporters.
Two weeks later, the incumbent President David Granger went into the town of Rose Hall along the same Berbice sugar belt and explained to his supporters and the citizens of Berbice that the troubles with the sugar industry and Guysuco started long before his government took office four years ago.
Mr. Granger said "the sugar industry that the PPP handed us could not be sustained. If you are in Demerara and you pass along Diamond, it is the PPP that shut down Diamond. The PPP actually sent home over 5000 sugar workers during their period in office".
Over the years, the Guyana Sugar Corporation has received billions of dollars in support from both the PPP and APNU+AFC government.
The PPP has enjoyed electoral support along the sugar belt for years. The coalition government is hoping to crack that trend.