One of the suspects in last night's gunning down of security officer, Kelvin Walters, at McDoom , has been arrested.
The suspect has been identified 25-year-old Devon Williams of Albouystown.
He was arrested at the Woodlands Hospital last evening, where he had gone to seek medical attention for a broken left pelvis.
Investigators were alerted to his presence at the hospital and moved in quickly to effect the arrest.
He remains under Police guard.
His injuries were sustained during the execution as the security officer, Kelvin Walters slammed his  car into the two gunmen who were on a motorcycle as they opened fire.
Walters was shot to his face and declared dead on arrival after being rushed to the Hospital. His wife and young child who were in the car with him at the time of the execution were unhurt.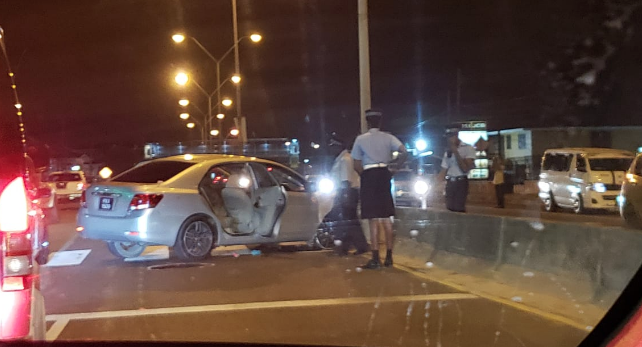 According to eyewitnesses, after gunshots rang out from the two men on the motorcycle, Walters slammed his car into them, resulting in them falling onto the roadway.
Both men appeared injured as they ran away from the scene, leaving the motorcycle and the firearm used in the execution behind.
Investigators have since swabbed the hands of the hospitalized suspect for gun powder residue.
News Source understands that the execution may be linked to the upcoming trial of three men for the grenade attack on the Kaieteur News back in 2015.
The security officer who was gunned down last night was a main witness in that case. The case is expected to come up for trial soon.
The suspect, Devon Williams, who was arrested last night for the execution of Walters, is believed to be a relative of one of the three men facing a High Court trial for that grenade attack.
The three men are Janeil Howard, Alfie Garraway and Leroy Williams. A fourth suspect has been continuously dodging arrest.
It was the testimony of Walters, who was also a former member of the Guyana Defence Force, that linked the men to the grenade attack.
During the preliminary inquiry, he testified that he was present when one of the accused gave the grenade to another one of the accused with instructions to throw it at a vehicle belonging to the owner of Kaieteur News in front of the newspapers' headquarters.
Police investigators probing last evening's execution are said to be looking at all angles and the possibility that the killing was a witness execution.