A 27-year-old taxi driver from Gordon Street, Kitty Georgetown was on Friday morning charged with the murder of handyman Victor DaSilva who was shot dead on the morning of Monday, July 8, while in the company of his employer on Water Street. The taxi driver Joseph Williams was not required to enter a plea to the indictable charge. He was also charged with the $8 Million robbery.
The young man who appeared emotionless during his brief court appearance was dressed in black and hid his face from media cameras as he made his way to the police lock ups at the court-house after being remanded to prison. He will make his next court appearance on July 18, 2013.
The police case is that Williams while carrying out the robbery with two other men murdered the handyman. The handyman's employer who is the owner of an East Coast gas station was shot about his body but survived the ambush and was rushed to the Georgetown hospital after he drove his car to Hincks Street during the daring robbery.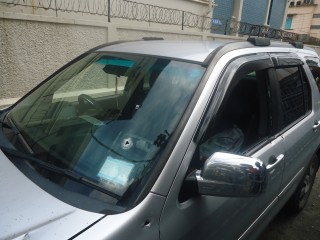 Three men carried out the brazen attack. Eyewitnesses pointed out a grey Toyota Allion motor car with hire car license plates as the vehicle that was used in the attack and murder. The gunmen after opening fire on the Honda CRV vehicle carrying the businessman and the handyman, snatched a bag containing $8 Million and drove off from the scene.
Police sources have told News Source that two other men are being sought in connection with the same case.
Filed 12th July 2013.