Georgetown Magistrate Leron Daly today ruled that the Prosecution has been able to make out its case and she therefore committed five teenagers to stand trial for the May 2016 murder of retired University Professor, Dr. Perry Mars.
Confusion took over the courthouse today, just after the teens were committed, when one of them was stabbed to his abdomen in the holding cell of Magistrates' Court.
It is suspected that he may have been attacked by two of his co-accused, who were also being housed in the same facility.  The weapon used in the attack may have been hidden in the lock up by another prisoner.
An ambulance was called and the injured teen was rushed to the hospital. He is reported to be in a stable condition.
It is believed that the two co-accused may have attacked the other teen over the case.
Last May, the teenagers, three boys and two girls, were arrested and charged for the gruesome murder of the retired Professor. His lifeless body was discovered by his wife in their Prashad Nagar home.
The man had only recently remigrated and was believed to be familiar with the teens, who would assist him with chores around the yard.
The Professor was found with his hands and feet tied and his mouth gagged.  A post mortem examination revealed that he died from manual strangulation along with trauma to the head. He was also badly beaten about his body.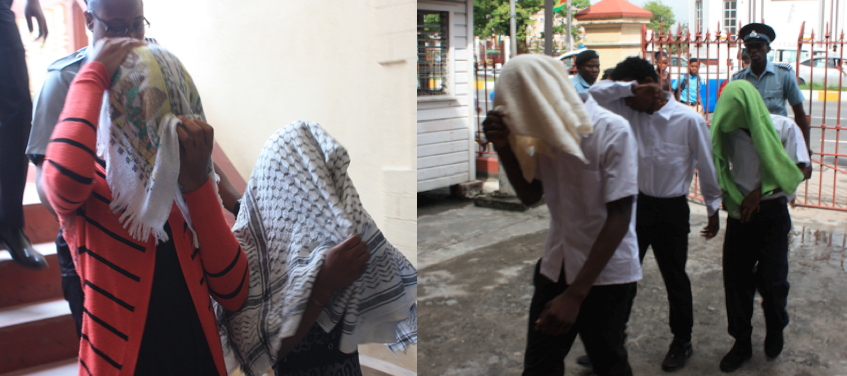 The teenagers were all arrested as persons in the posh neighbourhood identified them as the same youths who were spotted leaving the man's yard with suitcases and bags with valuables.
The stolen items were recovered in the homes of the teens in Sophia and Campbellville. at the time,  family members were left in disbelief and told investigators that the teens never behaved as if something was wrong.
Security video recordings also assisted the Police to crack the case. It is not known how soon the High Court trial will begin, but all of the teens will remain in custody.