Recovery teams were able to extract the bodies of Pilot Blake Slater and Cargo Handler Dwayne Jacobs from the wreckage of the Trans Guyana plane crash on Tuesday morning.
The bodies have been flown to the city and have been transferred to private funeral homes.
They were the only two persons aboard the aircraft that went down in the densely forested Olive Creek area in Mazaruni just after take off on Saturday morning.
Aviation officials who have seen the crash site have said there was no way the men could have survived the accident.
One official explained that from all appearances, parts of the plane were torn apart as it crashed through the dense forests in the area.
The pilot was found pinned in the cockpit while the cargo handler was found buried under debris from the accident and drums of fuel.
The Cessna Caravan aircraft went missing on Saturday morning just moments after the pilot reported to air traffic control that he was experiencing difficulties with the engine. Other pilots who were flying in the same area reported that the plane was seen going down into the forested area. Many of them also heard the calls of distress.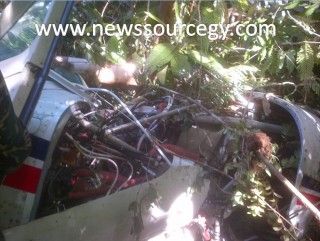 The Guyana Civil Aviation Authority immediately launched a search and rescue operation which continued all day Saturday and into Sunday morning.
The search and rescue operation became a recovery mission when the wreckage was spotted by the GDF helicopter on Sunday and ground troops were lowered into an area close to the crash site where they had to carefully extract the bodies from the wreckage.
The Guyana Civil Aviation Authority has launched a full investigation into the  fatal plane crash.
.