General Secretary of the Guyana Trades Union Congress, Lincoln Lewis, used part of his Labour Day address to hundreds of workers in the National Park to encourage the government to change the nature of Guyana's politics for the better.
"Minister Scott on Sunday called on the trade union to be a "game changer." We are saying to Minister Scott the trade union continues to be and calls on this administration to change the nation's politics for the better. That commitment and promise were given to us.  The success of Social Cohesion relies on solidarity, particularly on matters of national import", he said.
Mr. Lewis said labour continues to shine, where others continue to fail and the labour movement continues to give rise to concern, "whether the desire to marginalise and trample us  is because the power of solidarity is a force to be reckoned with, and stands to the benefit of all not a few."
He also echoed a call made by other trade unionists for there to be a reestablishment of a Ministry of Labour under the current government.
After it won the 2015 elections, the Government merged the responsibilities of the Ministries of Human Services and Labour and changed their names to the Ministry of Social Protection. There have been calls since then for there to be a stand alone Ministry of Labour.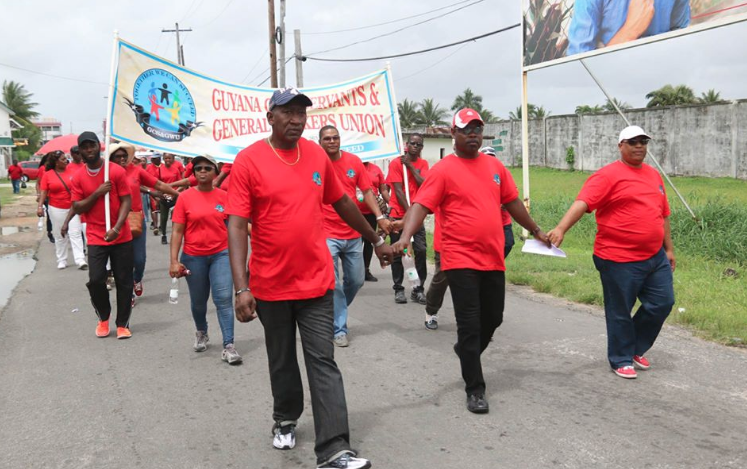 Lewis challenged PPP MP and Trade Unionist, Gillian Burton-Persaud, to take a Motion to the House seeking the re-establishment of the Ministry of Labour.
"Labour is prepared to work with you to bring this to fruition and hopes you take this commitment in the spirit of solidarity.  Labour holds out optimism that Minister Williams would be able to use this experience in impressing on his administration the wisdom of having a Ministry of Labour and the benefit of treating Labour as Social Partner consistent with Article 38 and 149C of the Guyana Constitution."
He said the absence of a Ministry of Labour "not only signals the value government places on a country's most valued resource but also communicates to allies and foes of Guyana that Guyanese are not considered pivotal to the country's development, and such perception is reinforced with the country's non-attendance to International Labour Organisation Conference for the past three years."