Three porters lost their lives late on Wednesday night when the lumber truck they were on toppled off the Soesdyke-Linden highway in the vicinity of Kuru Kuru.
The Guyana Police Force in a statement identified the three dead men have been identified as Michael Edwards, Wilfred James and Alicious Squad.
The driver of the truck, Shawn Lim survived and is in Police custody assisting with the investigations. A breathalyzer test was conducted on the driver but there was no trace of alcohol.
The Police report said the accident occurred at around 11:30 last night and the lumber laden truck was proceeding north along the western side of the highway. It is reported that the driver claimed that he saw something running across the road and pulled to the left to avoid a collision.
He lost control of the vehicle which resulted in it toppling off the highway into a ditch.
The three porters who were seated on top of utility poles that were being transported ended up being pinned at the bottom of the poles and the truck when it toppled off the highway.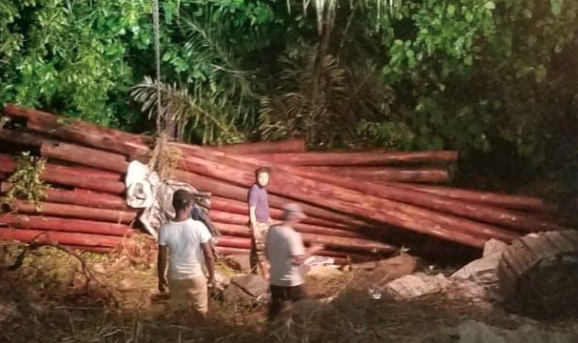 Persons from the area and the Police assisted in getting the trapped men from underneath the vehicle and rushed them to the hospital where they were pronounced dead. A post-mortem examination is to be conducted on their bodies.
Last week, an elderly woman from Linden lost her life after the car that she was traveling in toppled off the road and also found itself in a ditch to the side of the highway. That fatal accident is also under probe.